Current Issue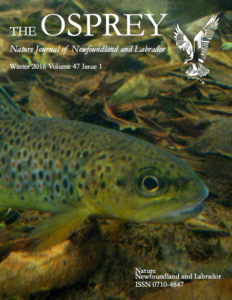 Winter 2016, Volume 47, Issue 1
The Osprey is a source of information on various aspects of the province's natural history such as birds, plants, insects, mammals, general ecology and philosophical nature musings. All members of Nature Newfoundland and Labrador can access The Osprey. Access the latest issues here.
Features
R. John Gibson 1931-2016
By John D. Jacobs
A tribute to the champion of our urban waterways.
Darwin's Great Puzzle: Are Flower Clusters of Tropical Palm Key to Understanding the Surprising Evolution of Flowers on Leaves?
By Robin Timothy Day
Looking closely at leaves may reveal the origins of tropical palms.
Proposed Species-at-Risk listing for the Americal Eel (Anguilla rostrata) in Canada
By John D. Jacobs and R. John Gibson
This culturally and commercially important species is in decline.
Nature Newfoundland and Labrador Tuck-Walters Award 2015. Recipients: Dr. Rita Anderson and Dr. Andrus Voitk
By Bill Montevecchi
Nature NL and the Humber Natural History Society honour two amazing environmentalists.
Departments
Society Matters
Headlines
Letters and Correspondence
Species at Risk Placemat
St. Pierre and Miquelon Bird Migration
Quarterly Bug
Night Sky
Artist Corner