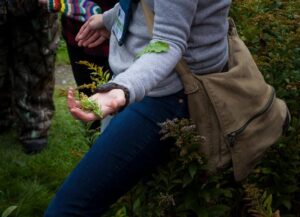 Join Lori McCarthy (Cod Sounds) and NatureNL on a foraging hike – September 29th, 2018. We will head onto the Sugarloaf Path, a scenic coastal hike with views of Quidi Vidi Village. Along the way we will share the wild edible plants that have helped make our Province a culinary destination. Enjoy some wild tea with homemade tea buns and local preserves.
Meet at the Sugarloaf Path trailhead on Saturday, September 29th at 9 AM.
Dress for the weather with comfortable footwear for hiking. All hikes are weather-dependent and will be announced the evening before on naturenl.ca
The cost is $50.00 for NatureNL members, $70.00 for non-members.