Newfoundland and Labrador has some wonderful year-round birding opportunities because of its convenient location in the North Atlantic. The lengthy shoreline and abundant wetland habitats make the Province a perfect stopover for migratory birds and a summertime safe haven for breeding seabirds.
Whether you're a professional birder or an amateur testing out your first pair of binoculars there are good resources to ensure you have an eventful trip. First, there are a number of Provincial / National Parks, Hiking Trail Systems, Wilderness and Ecological Reserves (limited access), and Important Bird Areas, which are great for exploring unique habitats, seeing a variety of wildlife, or viewing large congregations of seasonal bird species. (View more in our Resources section). If you're looking for a general digest of rare sightings and recent activity by established birders, the nf.birds forum is great.
Let eBird help you find more birds
If you're interested in finding something closer to home, you can check recent sightings or hotspots by using eBird. This website is essentially one big citizen science project, collecting millions of bird sightings all over the world which are then used by various organizations and regional experts for research, education initiatives, and a variety of other activities.
I can search on eBird in three ways: Map by Species, Explore by Region, or Discover Hotspots. If I wanted to find Double-crested Cormorants, for example, I could type them in the search and then refine my region or expand the map and find recent sightings near me. As a sensible precaution, you are unable to search for specific locations of "Sensitive Species" which could be targeted for exploitation (but scientists and conservation organizations can still use closed-access data for these sightings).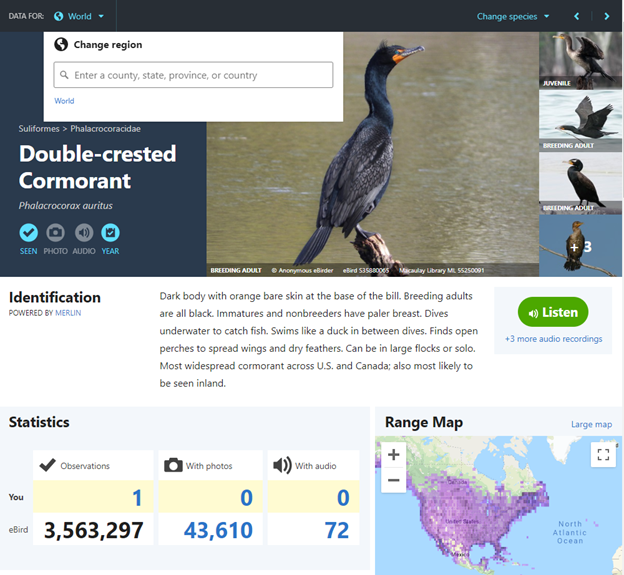 Narrow your birding by region
If I was in the Bonavista area, I could search for that region and view a map of recent sightings for all species in that region. eBird has the Province divided into 11 regions. These are somewhat arbitrary as Newfoundland and Labrador does not have a county system, but they align to economic regions more so than ecoregions.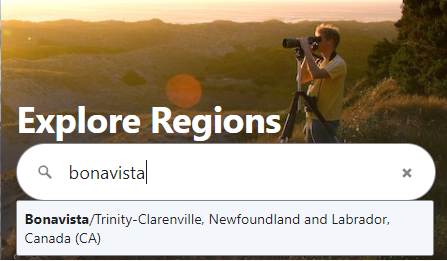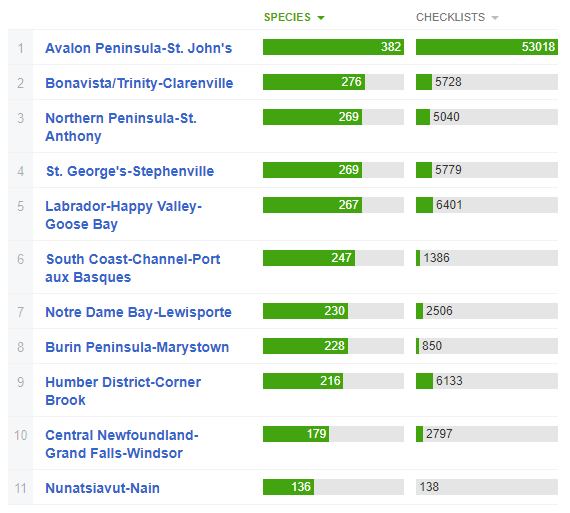 Explore a specific "hotspot"
I can also refine further by exploring "Hotspots", those pins on the map. I see they are coloured based on the number of species identified there, which gives me a good sense of the historical diversity of a particular spot.
Note: Hotspots are created in e-Bird by the birder community; if you have a favourite spot that you bird and log birds regularly and want to share that personal hotspot with others, you can nominate it as a Hotspot in E-bird!
Now back to my map: if I look at the Avalon Region I can see recent activity at Cape Spear and learn that over 200 species have been sighted here. If I isolate to the month of January, I can see that there have been Eiders, Dovekies, Snow Buntings, and Purple Sandpipers sighted here fairly consistently each year around this time. Just a quick check of the weather and I see it's supposed to be a nice morning, so I plan a trip to Cape Spear.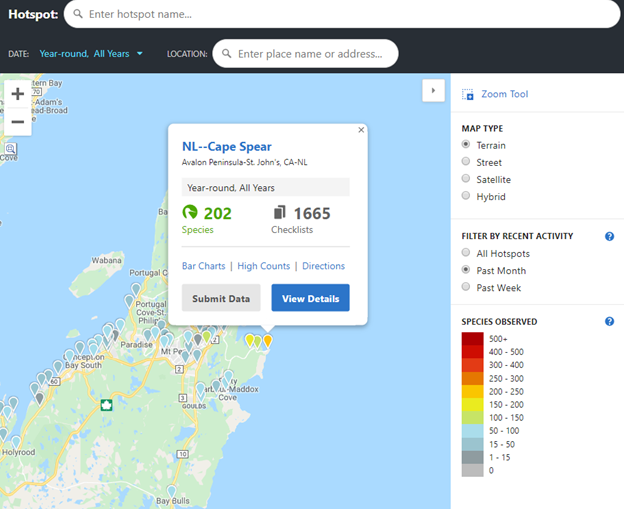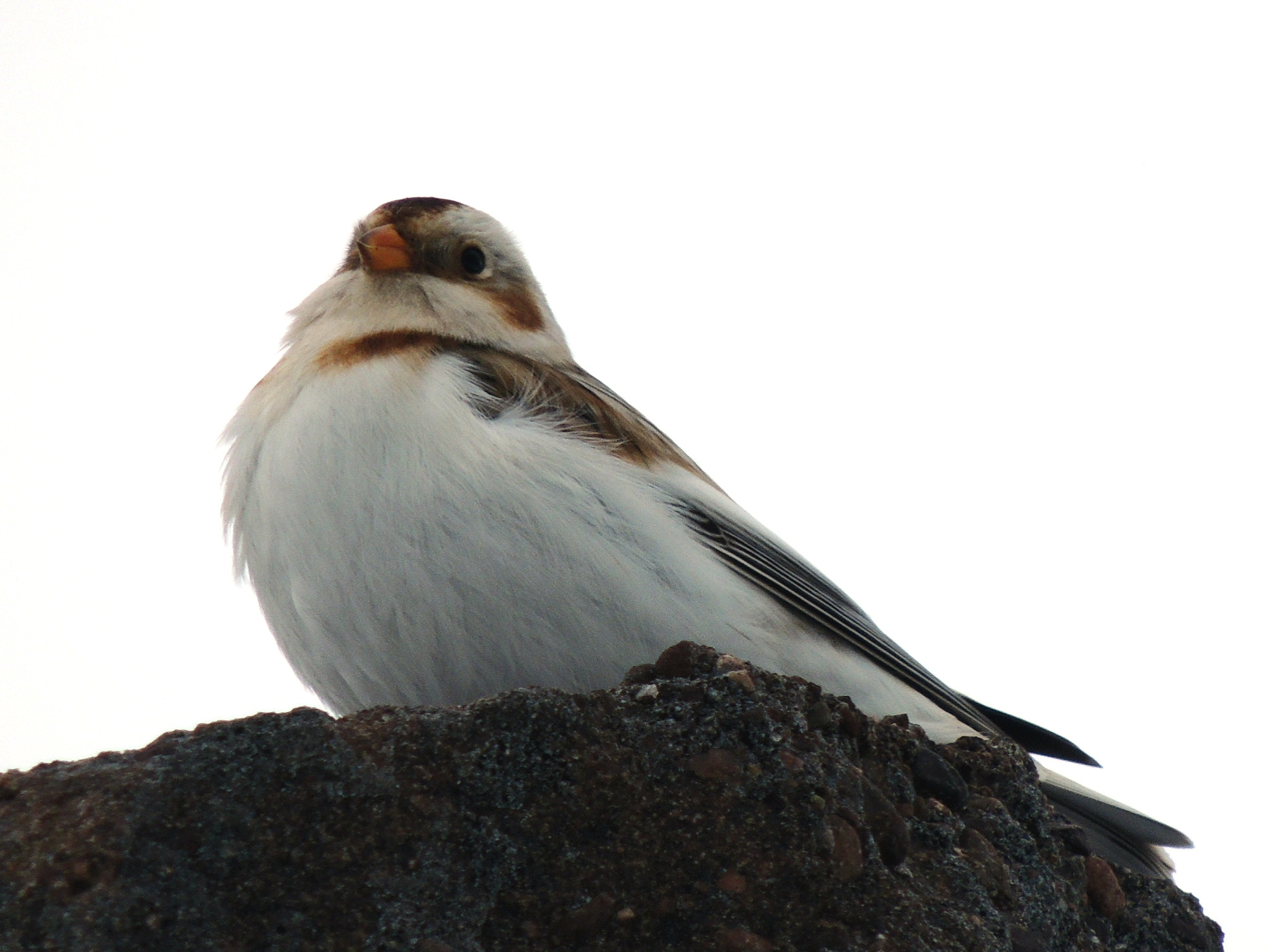 Want to Contribute?
Do you want to contribute and get started with logging your sightings? Check out the Bird Academy from the Cornell Lab of Ornithology. They have a free course called eBird Essentials to get you started using their mobile and desktop application. It includes helpful tips, such as submitting birds you hear as well as see because that information is useful for researchers.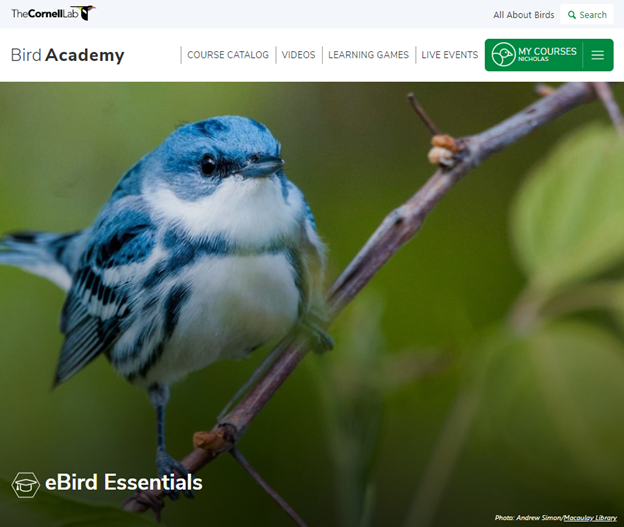 by Nick White