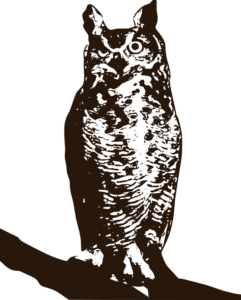 Have you ever went owl watching? On April 27th, haul on some warm clothing and your rubber boots and join Park Manager Keith Brown for a late excursion of Butter Pot Provincial Park in search for owls. We will meet at the park entrance (main gate next to the TCH underpass) at 7:30 PM and head out for a 2 hour walk (non-strenuous). Owls are difficult to find, but there is a good chance of seeing and/or hearing boreal and great-horned owls. This event is weather permitting (and limited to 20 people), so register below if you are interested and we'll keep you posted.
Twice a year Nature NL collaborates with The Rooms to present talks on aspects of local natural history. These talks replace our regular third Thursday of the month ones. The April talks will take place in the Lecture Theatre on the second floor of The Rooms.
WEDNESDAY APRIL 16 at 7 p.m.
NEWFOUNDLAND MOSQUITOES AND AUSTRALIAN THRIPS
by Dr. Tom Chapman, MUN Biology Department
Dr. Chapman will talk about the diversity of mosquitoes at Salmonier Nature Park and their role in transmitting arboviruses. He will also talk about his research on the evolution of cooperation amongst Australian thrips and why it's the kindest insects that survive.
THURSDAY APRIL 17 at 2:30 p.m.
PLANTWATCH NEWFOUNDLAND AND LABRADOR, CITIZEN SCIENTISTS AT WORK
by Madonna Bishop, MUN Botanical Gardens
Ms. Bishop will talk about PlantWatch a part of the national NatureWatch series of volunteer monitoring programs designed to help identify ecological changes that may be affecting our environment, such as climate change. As 'citizen scientists' you can watch plants bloom in spring, record your observations, and submit your data. Come to learn about our spring flowering plants and PlantWatching in the province.
Calling all Owlers!  Bird Studies Canada would like to coordinate a volunteer Nocturnal Owl Survey (http://www.birdscanada.org/volunteer/natowls/) in Newfoundland and Labrador this spring  (April/May 2014).  First we need to know if you have a favorite route that you already do, and if you would be interested in adapting your owl survey and sending in your owl observation data online.   We will also recommend routes for new owl enthusiasts. In an attempt to match survey efforts in other provinces, we can recommend a survey protocol and would like to involve as many people as possible, to spread out survey routes across the province.  Your help will be greatly appreciated! Please contact Laura McFarlane Tranquilla (Atlantic Canada Program Manager) at ltranquilla@birdscanada.org.