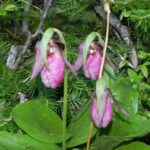 Saturday, June 18, 2016, 10:00 am.
Leader: Allan Stein | arstein@mun.ca | (709)895-2056
Meet at the MUN Vivarium Parking Lot, off Mount Scio Road, opposite and a bit east of the MUN Botanical Garden entrance. Park in the paved lot off that roadway, on the right very near Mount Scio Road.
NatureNL has an annual short fieldtrip on Mount Scio to view the pink lady slipper orchids. Initially the walk was led by Charlie Horwood, a long-time natural historian and a founding member of NatureNL. Since his death, we have continued the traditional outing as the Charlie Horwood Memorial Lady Slipper Walk. While the re-growth and development of trails in the area have markedly reduced their numbers, we normally see several hundred blooms in the 75 minute easy walk.
Nature Conservancy of Canada's Salmonier River Conservation Project

The Nature Conservancy of Canada (NCC) has been working in NL for twenty years. Their securement work  has spanned the Island, though the emphasis has been on Southwest Newfoundland.

The Salmonier River Conservation Project represents a new area for NCC in NL. Lanna Campbell, NCC Program Director will discuss how the area is ecologically important for a number of reasons: the forest landscape is largely intact, there is habitat for a diversity of rare lichens, and the river has a healthy population of wild Atlantic salmon. NCC's consistent path of conducting science, securing land, and leading stewardship and engagement is underway within the Salmonier Conservation Project. NCC hopes to continue working with communities to help conserve this unique part of the province for generations to come.

Lanna Campbell is the Program Director for the Nature Conservancy of Canada in Newfoundland and Labrador. Originally from the mainland, Lanna grew up on a family farm in rural Quebec. She has a Masters of Environmental Studies from Dalhousie University in Nova Scotia. During her academic work she had the opportunity to pursue forest ecology research throughout Atlantic Canada. A self-proclaimed 'Newfoundlander by Choice', Lanna is honoured to be working on land conservation in a province that has magnificent natural capital. She lives in Quidi Vidi with her husband, 1-year old daughter, black Labrador, and orange cat.

---

Thursday May 19, 2016, at 7:30 p.m.
at the MUN Science Building, Room SN 2067

---
We will be taking orders for our Nature t-shirts at our next meeting, Thursday May 19.
The cost is $25.00 per t-shirt/pre paid.
The t-shirts come in royal blue, 100% cotton, women's, men's and unisex versions. Because sizing is on the small size, samples will be available for you to try on to our May 19th meeting.
If you want a t-shirt, but cannot come to the meeting, please contact sharon@howdoes.ca before May 25th.
Nature Newfoundland and Labrador is holding our annual clean-up of Long Pond on Saturday, May 7, 2016, starting at 10:00 a.m. Meet behind the "Splash" facility on the south side of Long Pond (behind the MUN School of Business and other campus buildings). We anticipate that Clean St. John's will supply garbage bags and collection. Volunteers should bring their own gloves and wear boots. For more information, email: naturenl@naturenl.ca

Please join us for Alvan Buckley's presentation on "Birding with eBird" on Thursday April 21, 2016, at 7:30 p.m. in the Science Building, Room SN2067, on the MUN campus.
As a keen bird-watcher and "eBirder", Alvan is excited to share his passion about eBird with others. He has been an avid birder for 6 years, and has traveled across the country volunteering with the Canadian Wildlife Service and the Long Point Bird Observatory; he has also worked as a birding guide at the renowned Point Pelee National Park. If not studying medical books, or roaming hospital floors, he can be found biking around town eagerly checking the local hotspots for migrating birds and learning about our flora and fauna. For the past 3 years, Alvan has volunteered as one of the Newfoundland reviewers for eBird and helped promote the program with the local community.
eBird is an online checklist program where anyone is free to join and submit their observations. Everything that is submitted is added to a permanent database and archived for use now and in the future. eBird provides a great tool for individuals, organizations, researchers, conservation groups, and land managers to access a huge amount of information about the distribution and abundance of the world's birds. Over 1000 people have already contributed sightings to Newfoundland's database, totaling close to 50,000 lists. Come learn how you can explore all this data to learn about our birds, and see how easy it is to record your sightings.
---