Saturday August 20th at 10:00 a.m. (In case of inclement weather, Saturday August 27, watch NatureNL.ca for updates). Nature Newfoundland and Labrador invites you to join naturalist and lichen expert, Mac Pitcher, for a field outing at Sir Robert Bond Park in Whitbourne. In addition to the park's splendid trees, this trip should put you up close to some twenty lichen species, including a handful that are rare by NL standards.
The park is about a 1 hour drive from St. John's. Take the turnoff from the TCH into the town of Whitbourne (Route 80). After proceeding generally south into Whitbourne, make a right turn west onto Route 81 (known as the Markland Road). A good point of reference for this intersection is the large water tower labeled Whitbourne looming overhead near this junction. The entrance to the park is less than a kilometre along the road. There is parking by the gate. Meet Mac and the rest of the group there at 10 a.m.
The park is adjacent to a large pond and marsh, so mosquitos can be a problem; please dress accordingly. If you have a hand lens, bring it along. Mac will bring along a couple of pertinent field guides.
For further information contact us at: naturenl@naturenl.ca
Members and friends of NatureNL are invited to attend a FREE public lecture on July 7 sponsored by the Canadian Society for Ecology and Evolution (http://www.csee2016.com/). This lecture is being held at the Arts and Culture Centre and Emceed by the one-and-only Greg Malone.
WHEN: Thursday July 7th, 7:30p.m. (cash bar open at 6:30 p.m.)
WHERE: Arts and Culture Centre
Tickets are FREE and can be picked up in advance at the Main Office of the Biology Department (Science Building), at the Arts and Culture Centre Box Office, and from NatureNL on our June 16th walk around Mundy Pond and on our Annual Lady Slipper Orchid Walk on Mount Scio on June 18th.
TITLE: "Human Super Predators"
SPEAKER: Dr. Chris Darimont (Geography, University of Vitoria)
SYNOPSIS: When people think of predators, they often think of wolves, or sharks – maybe spiders. Few would identify our own species as a predator. Chris Darimont will argue that not only do humans function as predators but also that their impact is one of a 'super predator' – a predator of predators, a predator with the largest menu list on the planet, and a predator especially impactful in the oceans.
Dr. Darimont will cover the few but seminal pieces of research over the last century that has called for a re-examination of human activities, not from a 'fisheries' or 'wildlife management' lens, but rather from an ecological and evolutionary lens. Work covered will include his group's own grizzly bear-salmon-human project in British Columbia¹s Great Bear Rainforest as well as their recent meta-analysis and synthesis on 'human super predators¹ published in "Science" last year. The new perspectives offered in this work will describe how humans have essentially freed themselves from the limitations imposed on other predators in nature, and focus on humanity's efforts to impose new limits via management.
Dr Darimont's approach will be public-friendly. Speaking often at large venues, he likes to weave in personal stories, include arresting images, and challenge audiences with provocative content.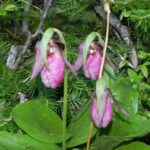 Saturday, June 18, 2016, 10:00 am.
Leader: Allan Stein | arstein@mun.ca | (709)895-2056
Meet at the MUN Vivarium Parking Lot, off Mount Scio Road, opposite and a bit east of the MUN Botanical Garden entrance. Park in the paved lot off that roadway, on the right very near Mount Scio Road.
NatureNL has an annual short fieldtrip on Mount Scio to view the pink lady slipper orchids. Initially the walk was led by Charlie Horwood, a long-time natural historian and a founding member of NatureNL. Since his death, we have continued the traditional outing as the Charlie Horwood Memorial Lady Slipper Walk. While the re-growth and development of trails in the area have markedly reduced their numbers, we normally see several hundred blooms in the 75 minute easy walk.
Join local birdwatchers and NatureNL members, Catherine Barrett & Alvan Buckley, for a walk around Bidgood Park in the Goulds on Saturday June 18th at 7am. This small natural area donated by the Bidgood family was turned into an accessible park in late 2014 and since then has proven to be an entertaining place for birders as proven by the 80 species documented there.
We will meet  in the gravel parking lot off of Power's road that is at the Northwest corner of the park. The walk will last about 2 hours giving plenty of time for anyone hoping to get to Mount Scio for the annual Pink Lady Slipper Orchid Walk. (Pink Lady Slipper Walk postponed until further notice).
Catherine & Alvan recently completed a whirlwind 24-hour birdathon on the Avalon peninsula where they saw 95 species of birds and raised well over $1500 for Bird Studies Canada & NatureNL. If you haven't had a chance to support them, you can do so at this link.
Hope to see you there!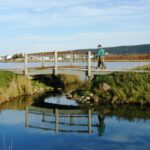 Nature NL will hold a walk around Mundy Pond, Thursday June 16 starting at 6:30 in the evening.
Megan Boucher will talk about the birds that historically  frequent the area, hopefully locating some of them during our walk.
We will also give a short overview of the history of the Mundy Pond community with a look at the changes to the pond itself over the past century.
We will meet in the parking lot across from the Mews Center.