Dave Snow started the Wild Things Scholarship with Nature Newfoundland and Labrador to encourage students that have demonstrated an active commitment to nature and the environment. For over 20 years, Dave has supported the next generation of biologists and naturalists through this scholarship.
Donations are gratefully accepted to the Wild Things Scholarship in memory of Dave. For more information about the scholarship, please contact us at naturenl@naturenl.ca.
 You can also contribute to to the Wild Things Scholarship in Dave's memory by mail to Nature NL, PO Box 1013 Stn C, St. John's  NL Canada, A1C 5M3
Obituary
With heavy hearts, we announce the sudden passing of David Albert Snow on April 15, 2017. He leaves behind his beloved children Alan, Angela, and Jennifer; his mother, Grace; sisters Linda and Catherine (Chris); partner Patti-Lynn Coleman and her children Allison and Andrew; nephew Louis; nieces Caitlyn, Christa, Victoria, and Margaret; work wife and friend Ann Simmons; and a wide circle of extended family, friends and, colleagues. Predeceased by his father, Victor Snow, and brother-in-law, Chris Fisher. A Biologist and Naturalist, David was passionate about all creatures great and small and for their well being. David pioneered environmental tourism in the province and helped establish Newfoundland & Labrador as a cruise destination. Winner of awards such as the Governor General's Award for Conservation and the Heritage Canada Sustainable Tourism Award and multiple National Geographic awards for his company Wildland Tours.  Gone to be with Nicky. Resting at Carnell's Funeral Home, Freshwater Road. Visitation Wednesday and Thursday 1 pm – 9 pm. Memorial service will take place at the Fluvarium on Friday, April 21 at 5 pm. Interment to take place at a later date. No flowers by request. Donations are gratefully accepted to The Suncor Energy Fluvarium, The Petty Harbour Mini Aquarium  or the Wild Things Scholarship at Nature NL.
Nature Newfoundland and Labrador is holding our annual clean-up of Long Pond on Saturday, May 6, 2017, from 10 am to 12 pm. Meet behind the "Splash" facility on the south side of Long Pond (behind the MUN School of Business and other campus buildings).
This year, we are using this event to celebrate International Migratory Bird Day! As the theme this year is "Stopover Sites" we are taking this opportunity to clean up the Long Pond shoreline, which provides important nesting and resting habitat for many species of birds, particularly waterfowl. We anticipate that Clean St. John's will supply garbage bags and collection, but volunteers should bring their own gloves and wear boots.
For more information, email us (naturenl@naturenl.ca).
Join Nature NL for fun activities at The Fluvarium for the Earth Day fair. We'll be there, along with many other local environmental groups, talking about the environment and ways you can help.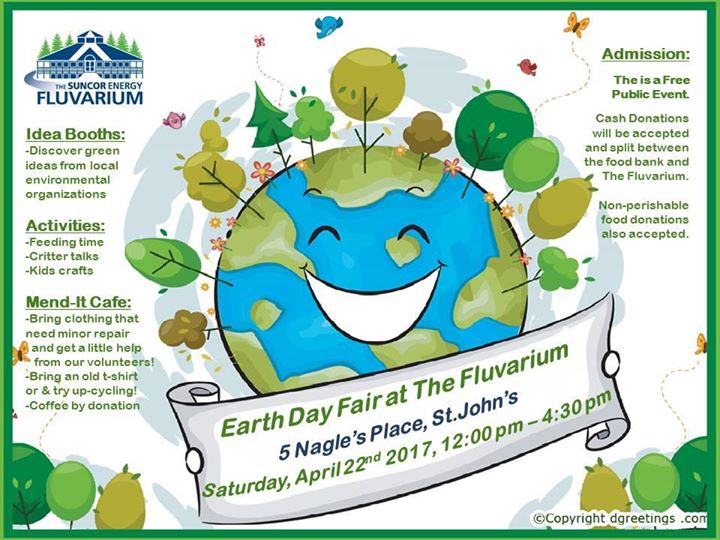 https://www.evensi.ca/earth-day-fair-2017-the-fluvarium/201186861
Speaker: Trevor Bell, Memorial University
For Nunatsiavut, the downstream impacts of the Muskrat Falls project on their people and homeland are potentially too devastating to leave to chance, or to Nalcor's speculative calculations. To address this uncertainty, Nunatsiavut initiated the Lake Melville: Our Environment, Our Health project. They assembled a team of independent researchers from Memorial University, the University of Manitoba, and Harvard University to carry out a detailed study of Lake Melville estuary, and most notably the downstream fate of methylmercury—a particularly nasty toxin for humans that is abundantly produced in newly flooded reservoirs.
The results of the methylmercury research led by Harvard University not only substantiate the Joint Review Panel's scepticism of Nalcor's claims of "no measurable effects" downstream, they also indicate that under the current Nalcor plan for reservoir clearing, there will likely be significant bioaccumulation of methylmercury in the Lake Melville food web.
Trevor Bell is University Research Professor in Geography at Memorial University. For over three decades he has studied landscape history from a variety of perspectives, including climate change impacts and human-environment interactions. He has played an important role in the ArcticNet NCE, both as project leader and coordinator of the eastern Arctic integrated regional impact assessment. One of these ArcticNet projects, Nunatsiavut Nuluak, co-led with Tom Sheldon, former Director of Environment for the Nunatsiavut Government, focused on Labrador fiords including Lake Melville.  Trevor has led the recent development of the SmartICE initiative, which supports safer travel for sea-ice users and shipping in northern coastal regions. SmartICE is a recipient of the 2016 Arctic Inspiration Prize. He is a founding member and co-lead of CACCON, the Circum-Arctic Coastal Communities Knowledge Network.
Thursday, April 20, 2017, at 7:30 p.m. at the MUN Science Building, Room SN 2067
Parking is available in Lot 15B (near the Music School) if the gate is open.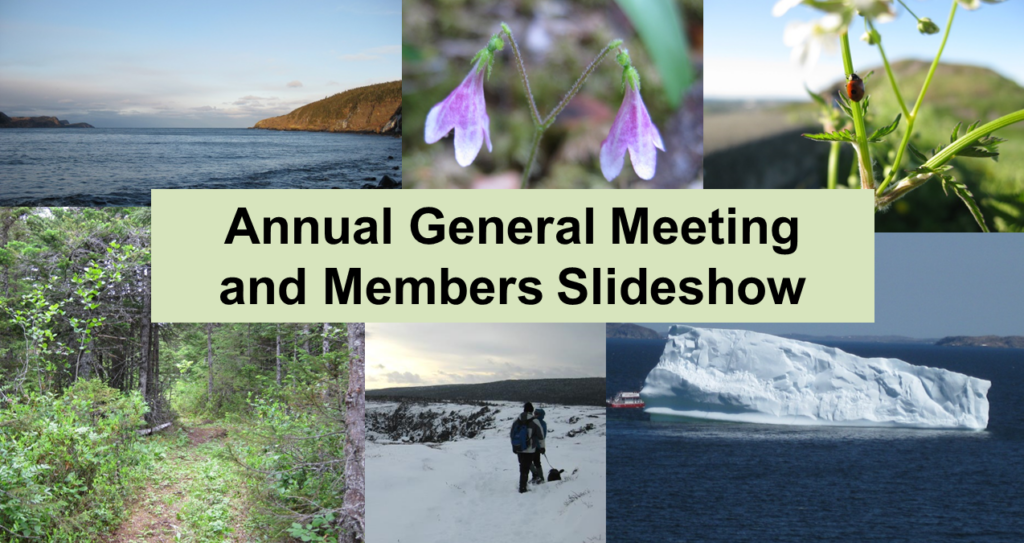 Our Annual General Meeting: There will be brief reports from the Board on our activities over the past year, as well as nominations and elections to our board.
Our Members'/Friends' Photoshow:  Bring a handful (~5 – 15) of your favorite photos to share with us, preferably as a powerpoint presentation on a flash drive. For further information please contact naturenl@naturenl.ca
Volunteering .  We need your help. Please consider volunteering some of your time and skills to share the work of our organization. Please contact our membership secretary, Carolyn Walsh (cwalsh@play.psych.mun.ca) or any member of the Board if you are interested in:
Serving as a member of our Board of Directors
Volunteering to help with indoor and outdoor programming, publicity and  communications, The Osprey, fund raising, environmental oversight, and so on.
Memorial University, Science Building, Room SN 2067 –  7:30 pm – 9:30 pm, March 16, 2017
Note: Free parking in Lot 15B by the Music School when the gate is open.