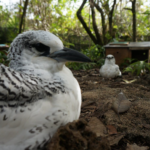 Speaker: Laura King
Selected as this year's 'Canada's New Noah' scholarship winner, Laura King spent the spring, summer, and fall in this little-known tropical nation. The award, given yearly by the NGO Wildlife Preservation Canada, provides early career biologists with hands-on field skills and academic training so they can better contribute to Canadian conservation upon their return. But how does working with pink pigeons, parakeets, and pathogens contribute to helping here? On these tiny faraway islands, success stories with some of the world's most interesting reptiles, plants, and birds are being written every day. The story of how these feats are accomplished and maintained is a look into the world of modern conservation practices, the talented and sometimes slightly strange biologists keeping these projects on the go, and the unusual species that have inspired devotion and donations from across the world.
Laura King is a conservation biologist with a local NGO, Nature NL board member, and outdoor enthusiast. She spent her undergrad and MSc doing wildlife genetics and toxicology, and has worked in government, universities, and non-profits. Having lived in nine cities, three provinces, three countries, and travelled on six continents, her motto used to be "Gather no moss", but she has recently decided she rather enjoys the mosses of Newfoundland.
---
Thursday, November 17, 2016, at 7:30 p.m. at the MUN Science Building, Room SN 2067. Parking available at Lot 15B (by the Music School)
---
The Next New Birds
Speaker: Ken Knowles

Four hundred and nine species of birds have been seen in insular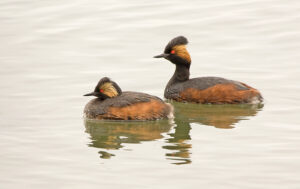 Newfoundland as of August 2016. New species have been arriving since 1947 at the average rate of two or three a year, and this increase shows no signs of slowing down.

In this presentation Ken Knowles (Avid birder and Naturalist) will naively attempt to predict which species will show up next. What might the bird checklist consist of in the year 2040?  By combining patterns of vagrancy, migratory and dispersal tendencies, range expansions, global warming and even future splits, it should be possible to forecast most, but never all, of our new arrivals.
Ken has been birding and photographing birds in Newfoundland for over 30 years. As well as birds, his nature interests include wildflowers, butterflies, and recently dragonflies. After a career as a Trombonist and Professor of Music at Memorial, he retired in 2004 in order to be free as a bird.
Contact us at naturenl@naturenl.ca for more details.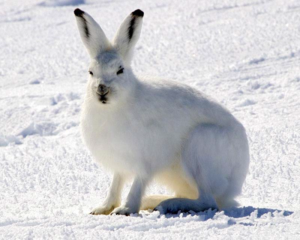 Arctic Hare are native to Newfoundland and Labrador and are distributed throughout several regions on the island portion of the province. Population levels for Arctic Hare appear to be stable but continued research and management of their populations and habitat is important.
Arctic Hare typically inhabit higher elevation areas above tree lines or in open barrens near forest.
The Arctic Hare is brown or grey in summer and almost completely white in winter with black on the inside and tips of ears. Arctic Hare are much larger than Snowshoe Hare, measuring up to 70cms.
We would like your help in reporting all sightings of Arctic Hare. If you spot an Arctic Hare in your travels, please send us your findings (along with photos and GPS coordinates, if possible).
Send any sightings to chriscallahan@gov.nl.ca or call 709 637-2025.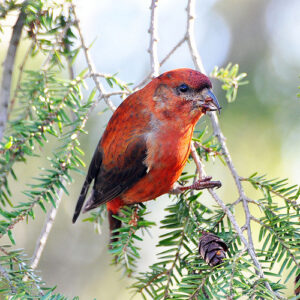 Red Crossbill are a medium-sized finch, which uses its crossed beak to pry open conifer cones.
The Newfoundland subspecies, percna, are listed as endangered under both provincial and federal endangered species legislation. Red Crossbill are associated with conifer forests, with the highest numbers of observations occurring in the older, mature forests of western Newfoundland. The island of Newfoundland may be the only location where this rare subspecies breeds.
Males are a dull red colour with brown shading and females are grayish olive with yellow rumps.  They look very similar to White-winged Crossbills, but can be distinguished by the lack of white wing bars that White-winged Crossbills have.
Many recent sightings in Newfoundland have been from bird feeders at houses and cabins throughout the Island. Please keep on the lookout for these colorful birds and report any sightings (along with photos and GPS coordinates, if possible)!
Please pass along any sightings and photos to the Wildlife Division at endangeredspecies@gov.nl.ca or call 709 637-2025.
Thank you for your support!
We want your nature observations! Come join the race to find as much wildlife as we can!
Join Nature NL for a Mini-BioBlitz as we search the diverse habitat of the eastern end of Long Pond, St. John's for all the species that call this important space home. We will then gather to identify what has been found. No matter your level of expertise, you can survey for birds, mammals, insects, fish, plants and more! Opportunities abound to learn, explore and make a significant contribution in our understanding of nature.
WHEN: Sunday October 2nd, 2016 in rain or shine, 12:00 – 15:00
WHERE:
12:00 – 13:30

Long Pond, St. John's – meet at the shelter next to Long Pond and Long Pond

Trail, bottom of the sliding hill.

13:45 – 15:00

MUN classroom location (Science Building, SN 2092)- identify what has been

found.
WHAT TO BRING: appropriate clothing and footwear, binoculars, phone or camera, water bottle
Surveying equipment and identification guides provided.
REGISTRATION: Contact Nature NL at naturenl@naturenl.ca
 Please indicate if you would like to be a Volunteer Naturalist.
NOTE: This event is FREE.
What is a BioBlitz?
"Bio" means 'life' and "Blitz" means 'to do something quickly and intensively'.
A "BioBlitz" is a great outdoor event where naturalists and members of the public work together to do a fast and intensive survey of all forms of life in a natural space. It's a race to find as many different species of plants, birds, insects, fungi, mammals, fish, and everything else as possible in 24 hours (or shorter for a Mini-BioBlitz)! A BioBlitz aims to record everything, common or rare, to build up a full picture of the biodiversity of a site on the day.
Logo: http://www.bnhc.org.uk/bioblitz/free-downloadable-resources/