The Next New Birds
Speaker: Ken Knowles

Four hundred and nine species of birds have been seen in insular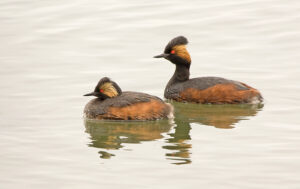 Newfoundland as of August 2016. New species have been arriving since 1947 at the average rate of two or three a year, and this increase shows no signs of slowing down.

In this presentation Ken Knowles (Avid birder and Naturalist) will naively attempt to predict which species will show up next. What might the bird checklist consist of in the year 2040?  By combining patterns of vagrancy, migratory and dispersal tendencies, range expansions, global warming and even future splits, it should be possible to forecast most, but never all, of our new arrivals.
Ken has been birding and photographing birds in Newfoundland for over 30 years. As well as birds, his nature interests include wildflowers, butterflies, and recently dragonflies. After a career as a Trombonist and Professor of Music at Memorial, he retired in 2004 in order to be free as a bird.
Contact us at naturenl@naturenl.ca for more details.
We want your nature observations! Come join the race to find as much wildlife as we can!
Join Nature NL for a Mini-BioBlitz as we search the diverse habitat of the eastern end of Long Pond, St. John's for all the species that call this important space home. We will then gather to identify what has been found. No matter your level of expertise, you can survey for birds, mammals, insects, fish, plants and more! Opportunities abound to learn, explore and make a significant contribution in our understanding of nature.
WHEN: Sunday October 2nd, 2016 in rain or shine, 12:00 – 15:00
WHERE:
12:00 – 13:30

Long Pond, St. John's – meet at the shelter next to Long Pond and Long Pond

Trail, bottom of the sliding hill.

13:45 – 15:00

MUN classroom location (Science Building, SN 2092)- identify what has been

found.
WHAT TO BRING: appropriate clothing and footwear, binoculars, phone or camera, water bottle
Surveying equipment and identification guides provided.
REGISTRATION: Contact Nature NL at naturenl@naturenl.ca
 Please indicate if you would like to be a Volunteer Naturalist.
NOTE: This event is FREE.
What is a BioBlitz?
"Bio" means 'life' and "Blitz" means 'to do something quickly and intensively'.
A "BioBlitz" is a great outdoor event where naturalists and members of the public work together to do a fast and intensive survey of all forms of life in a natural space. It's a race to find as many different species of plants, birds, insects, fungi, mammals, fish, and everything else as possible in 24 hours (or shorter for a Mini-BioBlitz)! A BioBlitz aims to record everything, common or rare, to build up a full picture of the biodiversity of a site on the day.
Logo: http://www.bnhc.org.uk/bioblitz/free-downloadable-resources/
Atlantic Salmon Conservation in St. John's

Atlantic salmon historically ran in the rivers of St. John's, but have been locally extinct for over a hundred years. In 2012, a local not-for-profit group, the Salmonid Association of Eastern Newfoundland (SAEN), took on the challenge of bringing wild Atlantic salmon back to the Rennies River by restoring river habitats and planting fertilized eggs. In 2014, Brittany joined the research team to aid the re-introduction projects and collect information to help improve egg hatching.

The Salmonier River Conservation Project represents a new area for NCC in NL. Lanna Campbell, NCC Program Director will discuss how the area is ecologically important for a number of reasons: the forest landscape is largely intact, there is habitat for a diversity of rare lichens, and the river has a healthy population of wild Atlantic salmon. NCC's consistent path of conducting science, securing land, and leading stewardship and engagement is underway within the Salmonier Conservation Project. NCC hopes to continue working with communities to help conserve this unique part of the province for generations to come.

For the past two years, she has conducted analysis of egg yolk quality, offspring viability, and juvenile growth to determine which aspect produces the most competitive offspring. She has also conducted habitat and fishing surveys in St. John's to quantify which habitat characteristics enhance egg hatching and provide the best conditions for developing salmon. These research results will help improve salmon growth and survival and focus re-introduction efforts.

Brittany grew up on Long Island, New York and spent her summers surf-casting for striped bass on Montauk Point. She attended the University of New England to earn her Bachelor's degree in Marine Biology. In 2009, she became a fisheries biologist for the National Marine Fisheries Service in the Gulf of Mexico and completed her Master's degree in Marine Science. In 2014, she became a United States Fulbright Scholar and traveled to Ireland to work on Atlantic salmon, while simultaneously beginning her PhD degree at Memorial University.

---

Thursday, September 15, 2016, at 7:30 p.m.
at the MUN Science Building, Room SN 2067

---
Saturday August 20th at 10:00 a.m. (In case of inclement weather, Saturday August 27, watch NatureNL.ca for updates). Nature Newfoundland and Labrador invites you to join naturalist and lichen expert, Mac Pitcher, for a field outing at Sir Robert Bond Park in Whitbourne. In addition to the park's splendid trees, this trip should put you up close to some twenty lichen species, including a handful that are rare by NL standards.
The park is about a 1 hour drive from St. John's. Take the turnoff from the TCH into the town of Whitbourne (Route 80). After proceeding generally south into Whitbourne, make a right turn west onto Route 81 (known as the Markland Road). A good point of reference for this intersection is the large water tower labeled Whitbourne looming overhead near this junction. The entrance to the park is less than a kilometre along the road. There is parking by the gate. Meet Mac and the rest of the group there at 10 a.m.
The park is adjacent to a large pond and marsh, so mosquitos can be a problem; please dress accordingly. If you have a hand lens, bring it along. Mac will bring along a couple of pertinent field guides.
For further information contact us at: naturenl@naturenl.ca
Members and friends of NatureNL are invited to attend a FREE public lecture on July 7 sponsored by the Canadian Society for Ecology and Evolution (http://www.csee2016.com/). This lecture is being held at the Arts and Culture Centre and Emceed by the one-and-only Greg Malone.
WHEN: Thursday July 7th, 7:30p.m. (cash bar open at 6:30 p.m.)
WHERE: Arts and Culture Centre
Tickets are FREE and can be picked up in advance at the Main Office of the Biology Department (Science Building), at the Arts and Culture Centre Box Office, and from NatureNL on our June 16th walk around Mundy Pond and on our Annual Lady Slipper Orchid Walk on Mount Scio on June 18th.
TITLE: "Human Super Predators"
SPEAKER: Dr. Chris Darimont (Geography, University of Vitoria)
SYNOPSIS: When people think of predators, they often think of wolves, or sharks – maybe spiders. Few would identify our own species as a predator. Chris Darimont will argue that not only do humans function as predators but also that their impact is one of a 'super predator' – a predator of predators, a predator with the largest menu list on the planet, and a predator especially impactful in the oceans.
Dr. Darimont will cover the few but seminal pieces of research over the last century that has called for a re-examination of human activities, not from a 'fisheries' or 'wildlife management' lens, but rather from an ecological and evolutionary lens. Work covered will include his group's own grizzly bear-salmon-human project in British Columbia¹s Great Bear Rainforest as well as their recent meta-analysis and synthesis on 'human super predators¹ published in "Science" last year. The new perspectives offered in this work will describe how humans have essentially freed themselves from the limitations imposed on other predators in nature, and focus on humanity's efforts to impose new limits via management.
Dr Darimont's approach will be public-friendly. Speaking often at large venues, he likes to weave in personal stories, include arresting images, and challenge audiences with provocative content.