Yet again parental Northern Gannets are abandoning their chicks at Cape St. Mary's – an event very reminiscent of the 2012 abandonment with almost the same timing. Like 2012, there has been a very rapid rise in sea surface temperatures (SST) around the colony (see figure below). The warm waters may be forcing gannets to head north to find prey in cooler waters [see Montevecchi et al. 2013 (Osprey 44 (2): 14-19) for more info on the 2012 event - investigations are ongoing for this years event].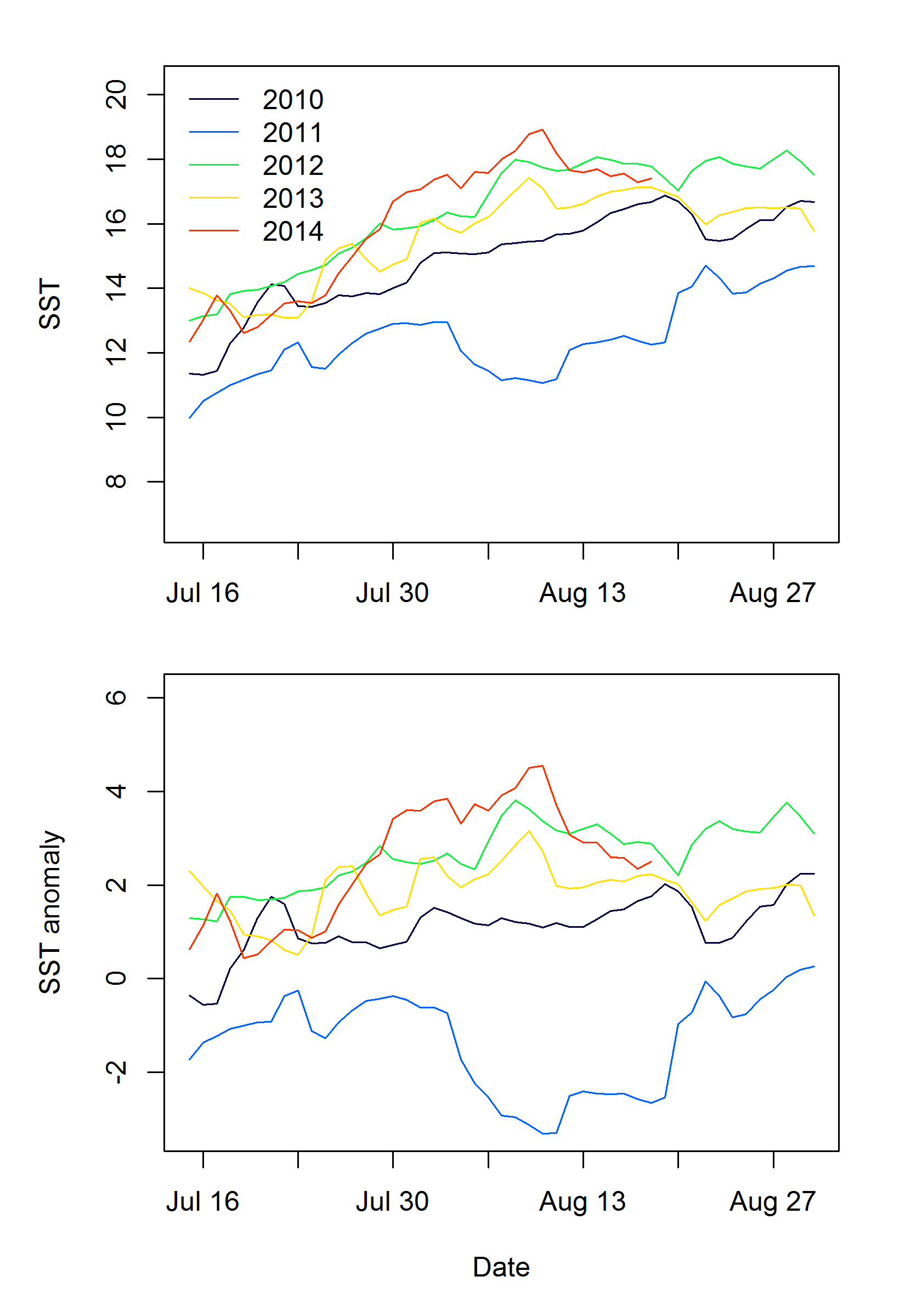 If you are having trouble viewing the message below, Click Here to view this message on Nature Canada's website
Hi


Friend,


The weather is great, gardens are blooming, and the hiking paths are dry. Hopefully you have some exciting outdoor adventures planned for the next few months. Whatever you envision doing, make sure you take along your sunscreen, hat, and camera to capture the moment!Since we can't explore the great outdoors with you, we would love to view your pictures! When you come inside for a break and a quick snack, why not share your best nature photos with us! To celebrate our upcoming 75th anniversary in September 2014, we are launching a nature photography contest designed to get more Canadians outdoors connecting with nature across the summer months. It's a simple way for you, your family or your friends to explore nature whether nearby in your NatureHood, at your cottage or during your summer vacation. It is our hope that by spending time in nature you will explore and adore our natural heritage and all that our environment has to offer us.We have some pretty prestigious nature-loving judges who will make the final decision when it comes time to choose the winners. Among them are

- Micheal Tayler, Canadian Olympian in canoe and kayak slalom
- Micheal Runtz, Ottawa-based photographer and nature enthusiast
- Les Stroud, better known as TV's "Survivorman"

Yes, that's right. Survivorman himself will give his opinion on the best photos entered into out contest.

In addition to these amazing judges, our constantly growing list of prizes is pretty outstanding as well. These include a Park Pass for unlimited access to our national parks and a 3 day parkhorse expedition trip for 2 generously donated by Copper Cayuse Outfitters. Check out all the details and more at www.naturecanada.ca/photocontest.

Get outside, get active, and take some pictures while you're at it! For more information or answers to any questions, please contact us at nmiddleton@naturecanada.ca or phone us at 1-800-267-4088 ext. 229.

Yours for nature,

Stephen Hazell
Executive Director (interim)
Nature Canada
Update email preferences | Unsubscribe | Forward to a friend | Visit our web site
Nature Canada
75 Albert St., Suite 300 Ottawa, ON, K1P 5E7 Toll free: 1-800-267-4088
Copyright © 2014 All rights reserved.
Nature Newfoundland and Labrador and Friends are celebrating this valuable part of our natural environment with an evening walk along the shores of Long Pond and part of Rennie's River.
Dr. John Gibson, DFO Scientist Emeritus and long-time urban rivers advocate, will discuss the importance of maintaining the natural character of Long Pond, its valuable wetlands, and Rennie's River under the threat of biodiversity loss and the uncertainties of a changing climate.
Join us on Thursday evening, June 19th at 6:30 p.m. at the Fluvarium parking lot.