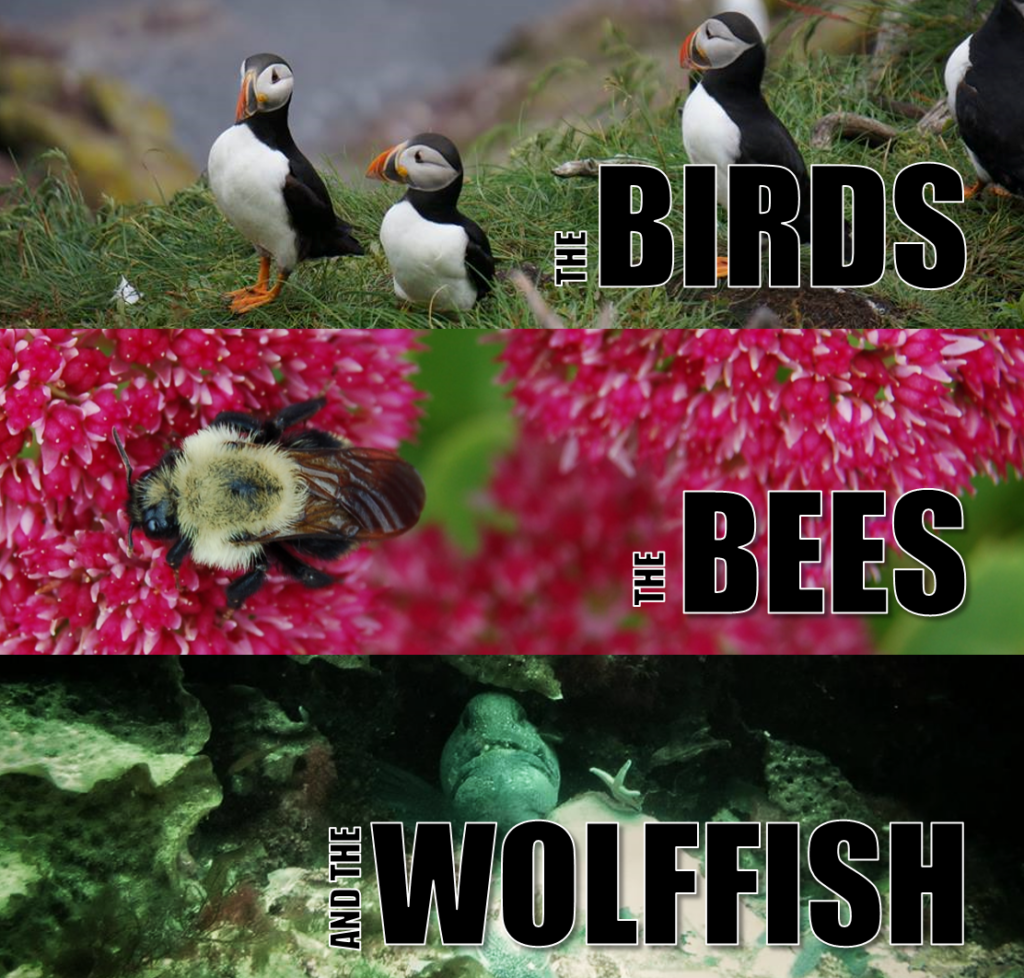 Join Nature Newfoundland & Labrador for a fun evening called "The Birds And The Bees (And the Wolffish)" as three passionate graduate students from Memorial University share their current research with us in mini lectures! Science Building on the MUN campus, Room SN 2067, Thursday Feb. 18th, 7:30pm.
Three adventurous young scientists have plenty of interesting stories to share about birds, bees, and wolffish. Michelle Fitzsimmons will tell us about the secret and underground (literally) lives of Atlantic Puffins on Gull Island in Witless Bay, North America's largest breeding colony. Margie Wilkes will help us explore the life history and diversity of Newfoundland's native bees and their role as pollinators of lowbush blueberry. Lastly, Emilie Novaczek will present her research on the coastal habitat of Atlantic Wolffish, a species at risk in Newfoundland waters. Come hear about these neat and high-profile species and become familiar with some of the latest MUN research from three different departments at the same time.
Winter Gull Watching at Quidi Vidi Lake





Photos by G. Herzberg and J. Clarke

Did you know that Quidi Vidi Lake is internationally known for gull watching? The abundance and diversity of gulls attracts birdwatchers from all over the world.

Nature NL will be hosting a winter gull workshop with bird expert Jared Clarke at Quidi Vidi Lake. Learn to identify the many species of gulls that hang out St. John's in the winter.

Bring binoculars if you have them, if not we will have a few extra pairs to lend.

We will meet at the far end of the Dominion grocery store parking lot (the northeast end of the parking lot, closest to the Lake). The Dominion is at 20 Lake Avenue next to Quidi Vidi Lake. Meet at the bright yellow car. Please dress for the weather. Hope to see you there!

Saturday, February 6, 2016 at 10:00 am, at Quidi Vidi Lake

   
New perspectives on the Ediacaran Mistaken Point biota of Newfoundland: Palaeobiology, palaeoecology and geoconservation of a candidate UNESCO World Heritage Site
Wednesday, January 27, 2016
at 7:00 pm, at The Rooms
No admission fee
---
Did you know that one of the oldest complex fossils in the world was found here on the Bonavista Peninsula in 2008? Memorial University's Dr. Duncan McIlroy and University of Oxford's Jack Matthews will tell you about this approximately 560 million year-old amazing find and take you to the Connections Gallery to see the actual ancient specimen. They will also talk about their exciting new insights into how this group of organisms lived, when they evolved and why the went extinct.
---
Christmas bird counts are a yearly tradition where groups of people head out in a certain area to try to find and count as many different species of birds as possible in that spot. They are a great way to learn more about birds, meet other naturalists and birders, and get out for a fun day of birding. Here are the confirmed locations, dates and contact information for compilers of Christmas Bird Counts taking place in Newfoundland and Labrador during the 2015 Christmas season – please contact the organizer directly for the info you'll need to take part. Happy birding!
| | | | | |
| --- | --- | --- | --- | --- |
| Count Name | Compiler | Phone # | Email | Count Date |
| Bonne Bay | Darroch Whitaker | 709-458-7080 | darroch.whitaker@pc.gc.ca | 16-Dec-2015 |
| Buchans | Diane Burton | 709-533-1170 | mango5@eastlink.ca | |
| Cape Race | John Wells (NLCR) | 709-576-2153 | jlwells@mun.ca | 19-Dec-2015 |
| Cape St. Mary's | Alvan Buckley | | alvanbuckley@gmail.com | 29-Dec-2015 |
| Corner Brook | Lois E Bateman | 709-634-7206 | lbateman@grenfell.mun.ca | 19-Dec-2015 |
| Ferryland | Bruce Mactavish (NLFL) | 709-722-0088 | bruce.mactavish1@nf.sympatico.ca | 02-Jan-2016 |
| Gander | Kevin Butler | 709-256-3542 | jkb@nl.rogers.com | |
| Happy Valley-Goose Bay | Tony Chubbs | 709-896-2691 | chubbs@nf.sympatico.ca | |
| North West River | Elizabeth Dawson | 709-497-8383 | ecdawson@hotmail.com | |
| St. Johns | Alvan Buckley | | alvanbuckley@gmail.com | 26-Dec-2015 |
| St. Paul's-Cow Head | Darroch Whitaker (NLSC) | 709-458-7080 | darroch.whitaker@pc.gc.ca | 19-Dec-2015 |
| Stephenville | Janice Flynn | 709-721-3557 | janiceflynn@nf.sympatico.ca | 28-Dec-2015 |
| Terra Nova N.P. (north) | Janet Feltham | | | |
| Wabush-Labrador City | Gordon Parsons | 709-944-5521 | gordon_parsons@hotmail.com | 19-Dec-2015 |
| Manuels River Bird Count for Kids | Jared Clarke & Laura King | 709-693-7180 | info@manuelsriver.com | 9AM, 3-Jan-2016 |
Table modified from BSC
December 17, 2015 at the Gathering Place
Please drop by the Gathering Place between 4:30 pm and 7:00 pm to meet up with your environmental friends (old and new). Everyone interested in the environment and nature is invited. Bring a friend. Bring a treat or "finger food" to share. Coffee and tea provided. The Gathering Place is the large gray building on Military Road immediately next to the Basilica parking area. Please use the entrance facing the Basilica parking area. Use the door on the left; press the door button and someone will come down to get you, or if necessary, make arrangements to use the elevator.
Jointly sponsored by NatureNL, CPAWS-NL, NLEN, and NAACAP