With Forager And Chef Lori McCarthy
Posted March 5, 2019
You Can Eat The Woods For Dinner
Lori McCarthy gets excited about food. Wild food, traditional food, the food that nourished our ancestors and our culture, the food that makes us who we are. "It's my belief that our foodways are stories to be shared" she says. "Embracing the past, holding strong in the present, and growing with the future, they shape who we are as a people." Rooted in the land and sea from which our traditional foodstuffs spring, Lori's relationship with cultural foods and the land borders on the spiritual, her respect for the natural world reminiscent of an earlier time when understanding of nature's cycles meant life or death.

Posted January 7, 2019
I wouldn't stop talking about one of my favourite apps, so the editor of The Osprey asked me to write about it. I use it myself, but also bring it to Nature NL events and other workshops so that other people can play too. This isn't sponsored or encouraged by the company or anything like that, I just really enjoy it (arguably, it's marginally more useful than all the time I spend scrolling through bird pictures on Instagram) – and thought other naturalists might too – Laura King, Nature NL VP
Larkwire is just an app. But like any good app, it has the potential to make life better – in this case, for the bird nerds.
Posted November 27, 2018
Gene Herzberg recently gave a beautiful Nature NL talk about plants of the Limestone Barrens of Newfoundland and Labrador.
The adaptations that these plants have developed to cope with this windy, cold, nutrient-poor environment are fascinating. For example, irregular surfaces on leaves help retain moisture, while fuzzy coats break up winter winds. And the growth form of rounded mounds that many of these plants show is a tight compact structure that keeps the flowers warm and protected from the wind.
Photos by Sara Jenkins & John Jamieson
Posted November 22, 2018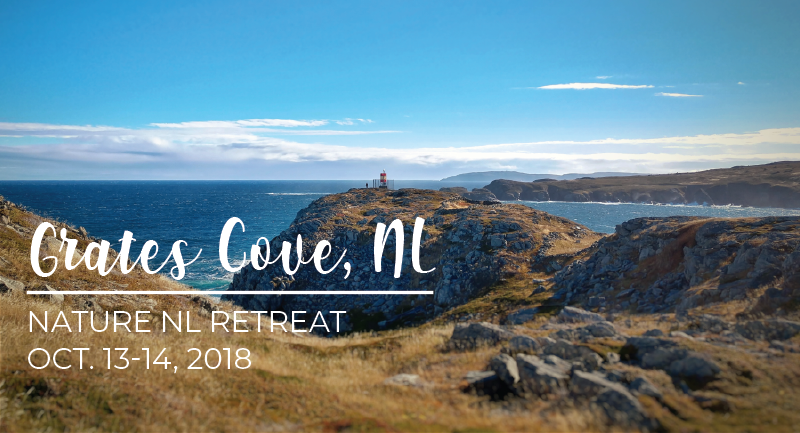 This chilly winter weather has us thinking back on some of the fun we had before the snows hit.  This October, as a thank-you to our valued members who make all of our programming and educational activities possible, we organized a members-only weekend retreat to Grates Cove, NL.  We chose Grates Cove because its remoteness, rugged beauty, and the ingenuity of this community's adaptation to both the natural landscape and changing lifeways of Newfoundland and Labrador inspire us to get out and celebrate both our province's natural heritage and our role within it.
Grates Cove is the northernmost community on the Avalon Peninsula, located at the tip of the Bay de Verde Peninsula and situated in the eastern hyper-oceanic barrens ecoregion.  This ecoregion is restricted to several isolate localities in Newfoundland and is characterized by extensive carpets of heath with diverse lichen, moss, and ground plant communities. In the fall, the entire landscape seems ripe with edible bounties of berries.
Continue reading →
By Michelle Fitzsimmons, Memorial University
Posted November 19, 2018
Editor's Note: In our Research Spotlight Series we shine a light on exciting research in our province. In this post we showcase Michelle Fitzsimmons who recently defended her PhD thesis in the Cognitive and Behavioural Ecology Graduate Program, Memorial University.
My research focused on investigating the behavioural and physiological responses of Atlantic puffins to changing food resources. I studied puffins in the Witless Bay Ecological Reserve in Newfoundland and Labrador, which is home to the largest breeding colony of Atlantic puffins in North America. Over a period of four breeding seasons, I conducted two separate food supplementation studies, in which natural prey abundance also fluctuated greatly. Infra-red video cameras and Passive Integrated Transponder tags were used to identify parents and observe provisioning behaviour and parent-chick interactions.