I wouldn't stop talking about one of my favourite apps, so the editor of The Osprey asked me to write about it. I use it myself, but also bring it to Nature NL events and other workshops so that other people can play too. This isn't sponsored or encouraged by the company or anything like that, I just really enjoy it (arguably, it's marginally more useful than all the time I spend scrolling through bird pictures on Instagram) – and thought other naturalists might too – Laura King, Nature NL VP
Larkwire is just an app. But like any good app, it has the potential to make life better – in this case, for the bird nerds.
You might be familiar with the repetitive "chicka-dee-dee-dee" of the forest – that's the Black-capped Chickadee. But what about the hundreds of other bird species you might hear and see in Newfoundland and Labrador? Bird vocalizations (songs, calls, grunts, contact calls, chip notes, etc) are hard to learn. But once they are learned, they allow a birder to detect vastly more species. In one study, 90% of all birds in a certain forest could only be detected by ear, so if you are only birding with your eyes you could certainly detect more birds if you added in their sounds. Setting aside the birding aspect, I find that knowing bird sounds makes any old hike with friends more interesting and varied, as you can know, appreciate, and anticipate what's around you without dragging around heavy binoculars all the time. Like an undercover bird nerd…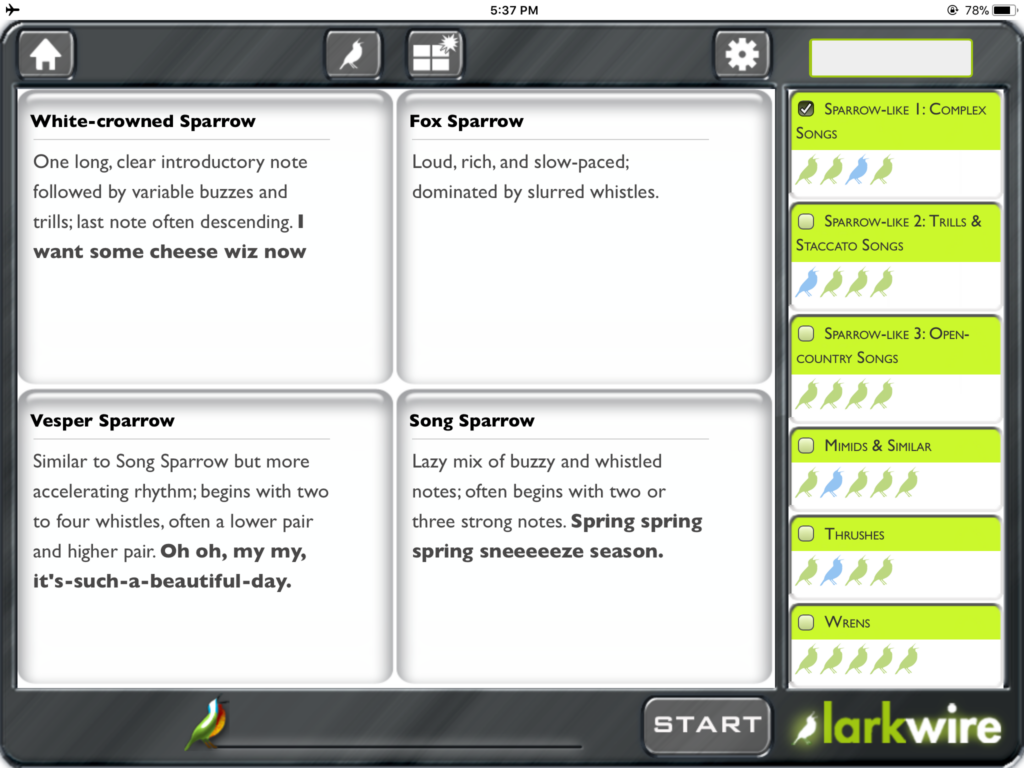 In other words, birding with your ears and eyes (let's call it multisensorial birding to be fancy) can open up a world of biodiversity all around us.
Larkwire is a game. The game is that a sound is played, and the player identifies or guesses the species (or admits they don't know it yet) – sounds simple. But the app is 'gamified' – as you guess the species over and over, you level up through a variety of colours for each bird. This keeps the player interested because you can actually see your progress, as you improve by playing.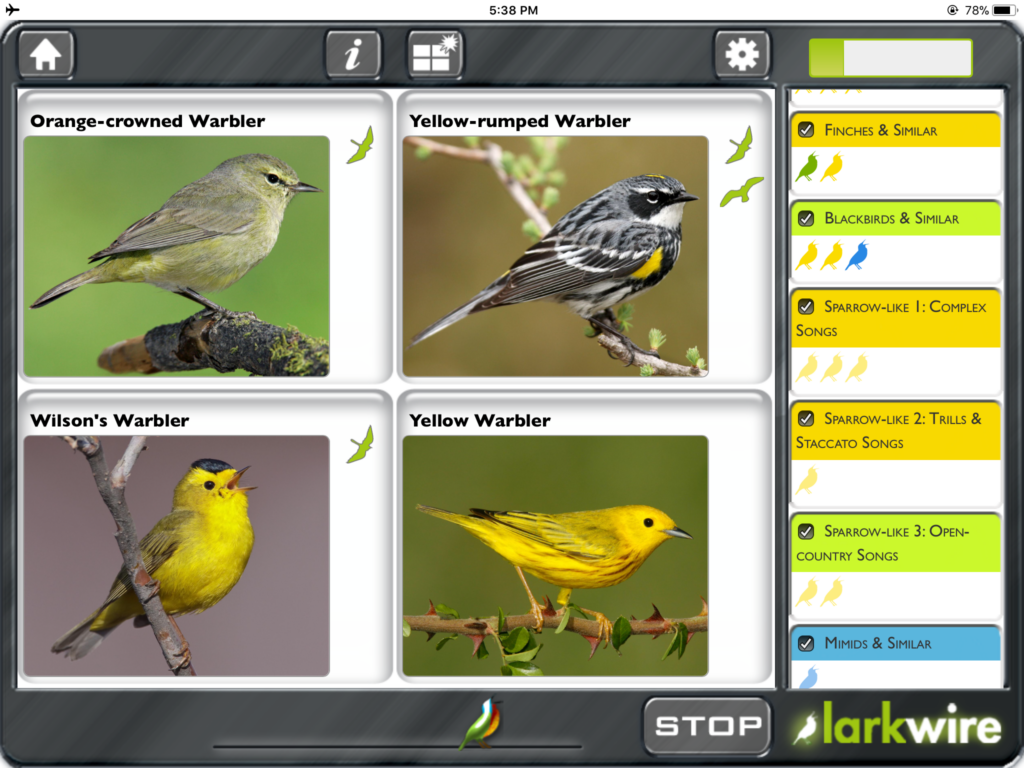 Four levels (Beginner, Intermediate, Advanced, Expert) allow anyone to jump right in to the app at the appropriate challenge. But more importantly, the app was developed by an ornithologist and a cognitive psychologist, so the app 'understands' which species and sounds you are having trouble with, and which one you already know.
This means you'll maximize your time on the app actually working on species or sounds you're trying to learn, instead of going over the basics again and again.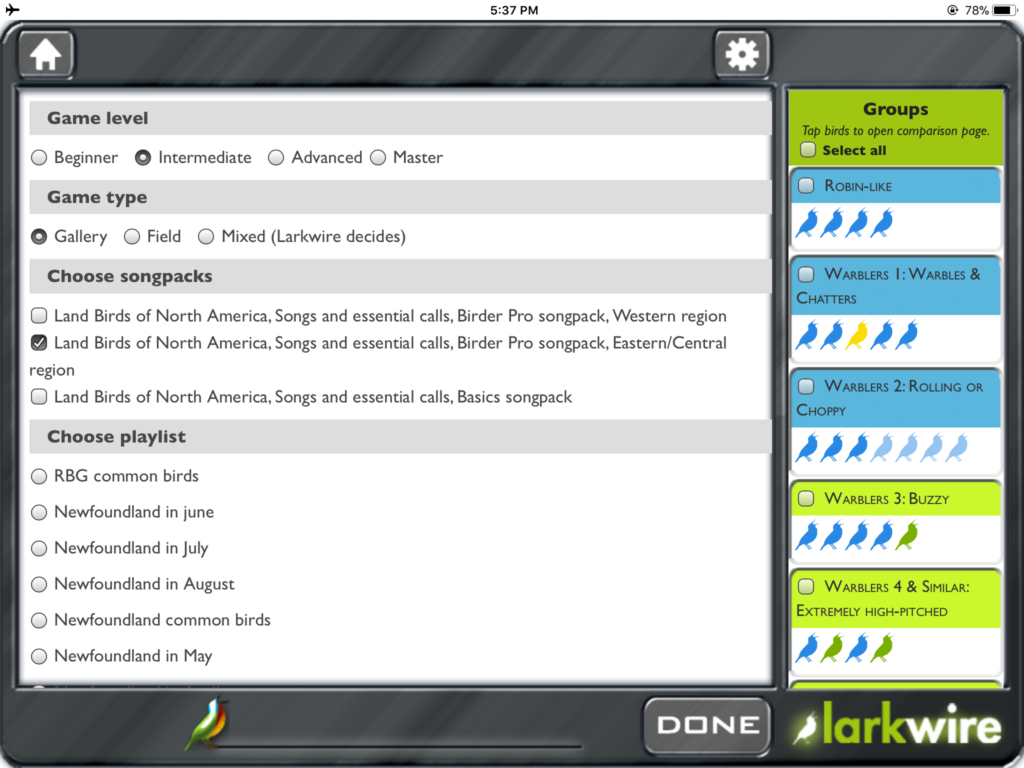 The other neat feature is the ability to set up lots of custom 'playlists' in the app, as above. This lets you focus on certain geographical areas (such as for an upcoming trip) or seasons (for example, just the birds that are around in winter). In many other ways as well, the app is customizable; you can play within certain families and groups.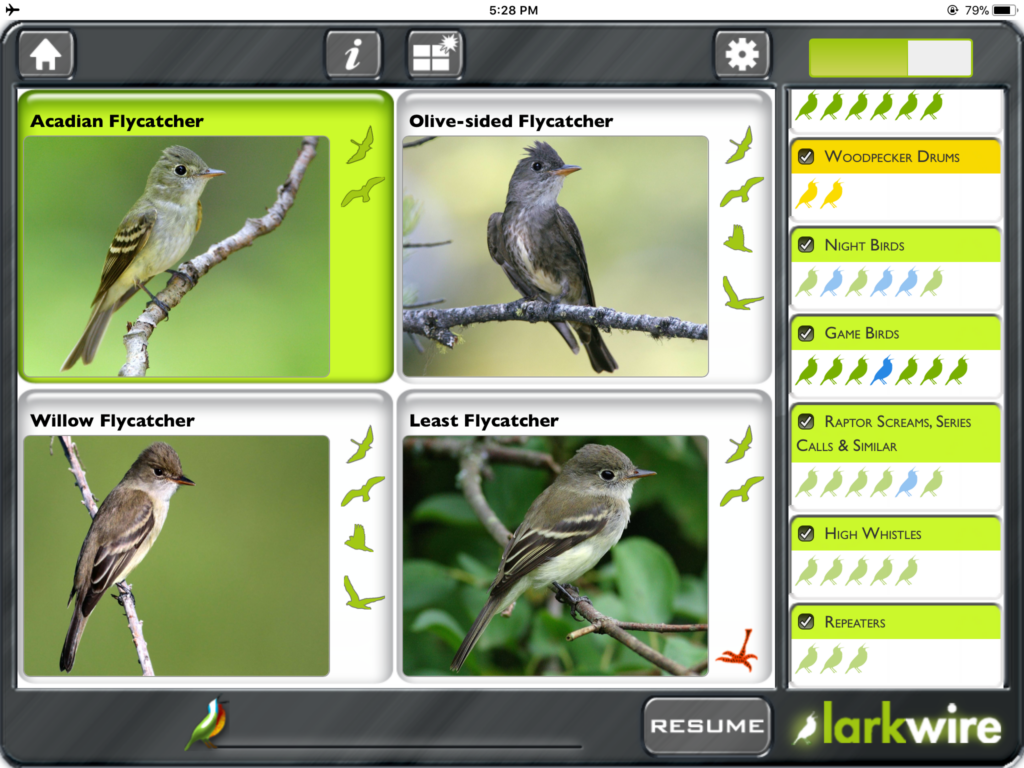 Birders and learners have always been able to listen to recordings to learn their birds. But the visuals, game, and customizations in Larkwire make it a lot more fun and easy to use. Hopefully this will allow for a whole new group of people to become interested in vocalizations, while allowing expert birders to practice their skills – especially during our long winters. Try it for yourself!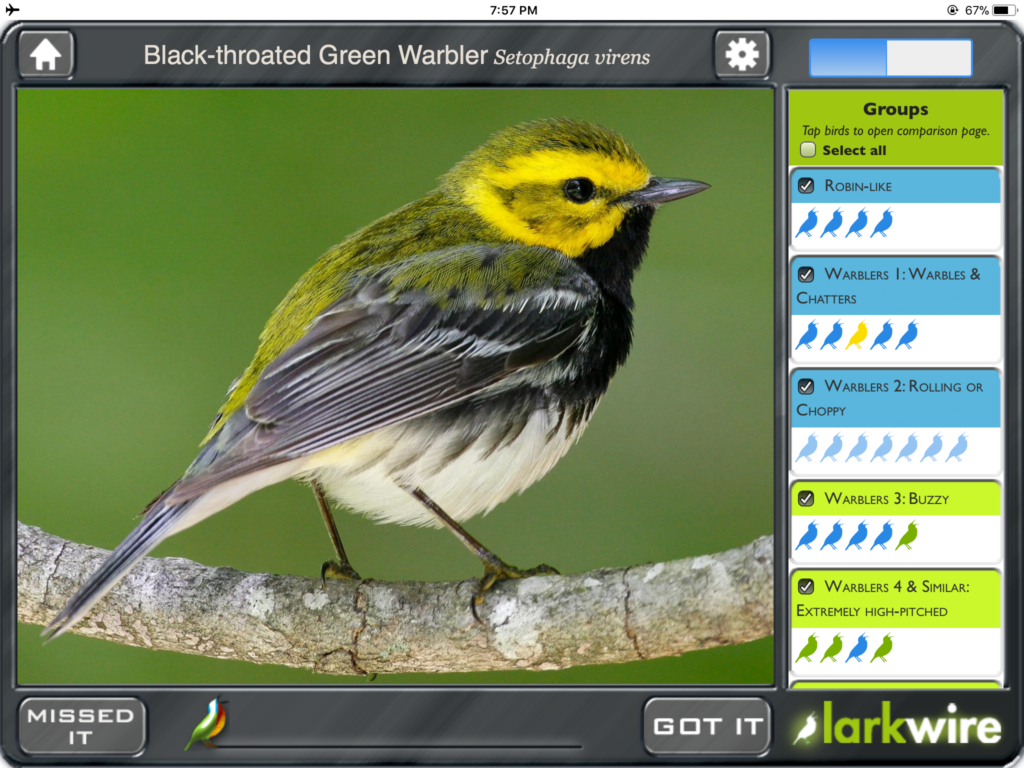 Posted November 27, 2018
Gene Herzberg recently gave a beautiful Nature NL talk about plants of the Limestone Barrens of Newfoundland and Labrador.
The adaptations that these plants have developed to cope with this windy, cold, nutrient-poor environment are fascinating. For example, irregular surfaces on leaves help retain moisture, while fuzzy coats break up winter winds. And the growth form of rounded mounds that many of these plants show is a tight compact structure that keeps the flowers warm and protected from the wind.
Photos by Sara Jenkins & John Jamieson
Posted November 22, 2018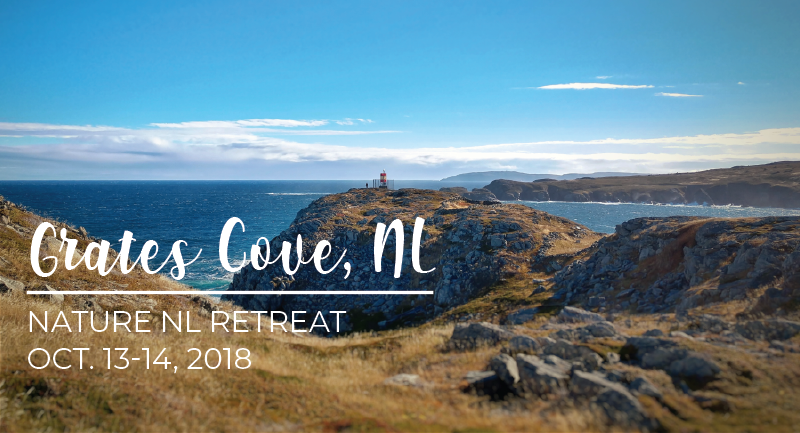 This chilly winter weather has us thinking back on some of the fun we had before the snows hit.  This October, as a thank-you to our valued members who make all of our programming and educational activities possible, we organized a members-only weekend retreat to Grates Cove, NL.  We chose Grates Cove because its remoteness, rugged beauty, and the ingenuity of this community's adaptation to both the natural landscape and changing lifeways of Newfoundland and Labrador inspire us to get out and celebrate both our province's natural heritage and our role within it.
Grates Cove is the northernmost community on the Avalon Peninsula, located at the tip of the Bay de Verde Peninsula and situated in the eastern hyper-oceanic barrens ecoregion.  This ecoregion is restricted to several isolate localities in Newfoundland and is characterized by extensive carpets of heath with diverse lichen, moss, and ground plant communities. In the fall, the entire landscape seems ripe with edible bounties of berries.
Continue reading →
By Michelle Fitzsimmons, Memorial University
Posted November 19, 2018
Editor's Note: In our Research Spotlight Series we shine a light on exciting research in our province. In this post we showcase Michelle Fitzsimmons who recently defended her PhD thesis in the Cognitive and Behavioural Ecology Graduate Program, Memorial University.
My research focused on investigating the behavioural and physiological responses of Atlantic puffins to changing food resources. I studied puffins in the Witless Bay Ecological Reserve in Newfoundland and Labrador, which is home to the largest breeding colony of Atlantic puffins in North America. Over a period of four breeding seasons, I conducted two separate food supplementation studies, in which natural prey abundance also fluctuated greatly. Infra-red video cameras and Passive Integrated Transponder tags were used to identify parents and observe provisioning behaviour and parent-chick interactions.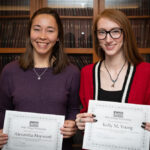 The Wild Things Scholarship recognizes the enthusiasm and efforts of post-secondary students whose volunteer activities have helped conserve or enhance nature in Newfoundland and Labrador. The award was funded by Wildland Tours and St. John's businessman Dave Snow, a well-known conservationist in Newfoundland and Labrador and an alumnus of Memorial University. To date, the scholarship has awarded more than $25,000 to students.
The Scholarship presentation took place on November 7th, with representatives from Nature NL, Memorial University and the Snow Family present. See the article by Kelly Foss in the MUN Gazette here.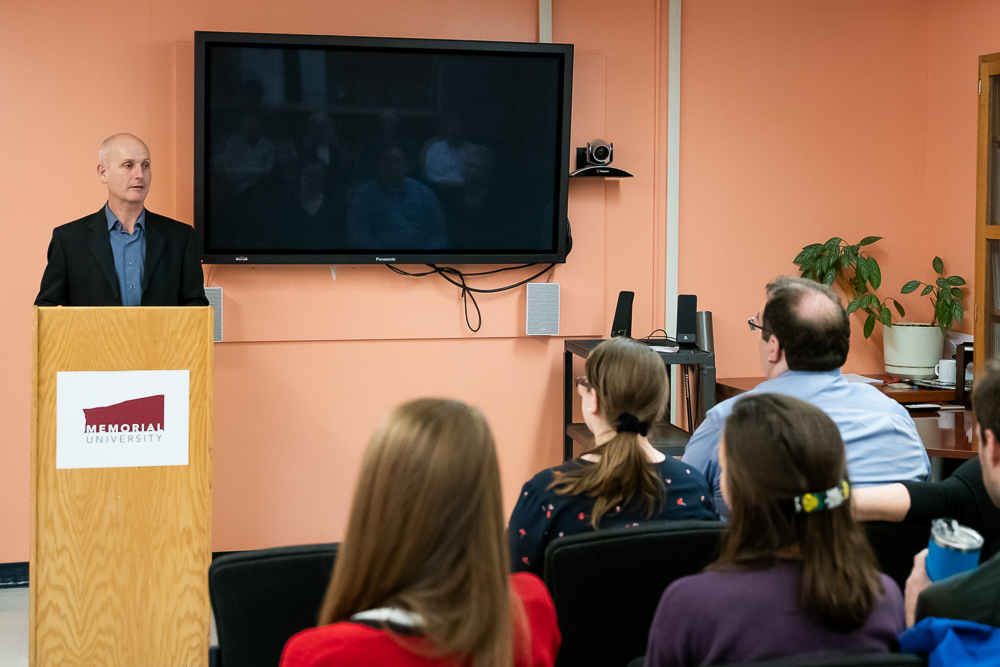 The Dean of Science at Memorial, Dr. Mark Abrahams, presenting at the Wild Things Scholarship ceremony, Nov. 7th, 2018.
Committee Report
By Rita Anderson
The 2018 Wild Things Scholarship competition received 15 applications from around the province; 9 applications were complete.  Rita Anderson coordinated the competition, while Sara Jenkins, Jennifer Sullivan and Tara Stucklass independently evaluated the applications. We are pleased to note that volunteering on behalf of the environment and nature is alive and well, as several applicants had volunteered an amazing amount of time and energy on behalf of our provincial nature.  Impressively, the volunteer activities of two applicants were so striking that the committee decided to make two awards this year.