Allan Stein, Nature Newfoundland and Labrador
For 12 or 15 years, until his death in 1992, Charlie Horwood led a few trusted friends to view his favourite pink lady slipper orchid patch. (Cypripedium acaule).   It was the highlight of the spring for the lucky few.  Charlie seemed to have direct communication with the orchids and knew some of his favourite plants intimately.  He knew exactly where to find each of the three albino plants and the massive plants that had thirty or more flower stems.  Charlie was among the naturalists who resurrected the Newfoundland Natural History Society (for the third time!) in 1970 and served on the executive, including as President for years.
By David Rendell, Canadian Parks and Wilderness Society – Newfoundland and Labrador Chapter
Through personal contacts, my wife and I were able to visit the designated Nature Conservancy of Canada site at Shampers Bluff, New Brunswick. The owner and donor of most of the 110 hectare site, photographer Freeman Patterson, provided us with a personal tour of the main features of the site, and his approach to the site.
Last August, while visiting our son Christopher, he suggested a visit to Shampers Bluff, partly because of its reputation as a conservation area, and partly as he is actively developing his own eight acre site near Hampton, NB. He had a friend who was able to contact Freeman and got his agreement for a visit. So, on a beautiful warm day, Chris, his wife Laura, Joan and I drove the half hour to get there from Hampton. We were greeted half way down the driveway by Freeman coming to meet us.
In the 1980s, Nature Newfoundland and Labrador (Nature NL; or the Newfoundland Natural History Society (NNHS) as it was then) invited Freeman Patterson to give a series of illustrated lectures, in the Little Theater in the Arts Building at Memorial University, on his photography of nature (Photography for the Joy of It, Photography and the Art of Seeing, Photography of Natural Things,  …), so there is a connection with Nature NL as I remember the talks clearly.
Upon coming home, I realized that I had a lot of photos, and wondered what best to do with the many photos I had taken. We all take lots of photos when on a visit to some special place. When traveling to India, Japan, Israel, I routinely used to take 20 rolls (36 exposures) of Kodachrome per trip. Now with digital cameras, the situation is compounded! So the idea gradually grew to offer to share the experience with a local group, Nature NL as an example of a real conservation project, and hopefully encourage others to get involved through one (or more) of the local environmental organizations.
The site is where Freeman lives, and the general public does not have access. He screens potential visitors for real interest in conservation, and not just a casual interest. He mentioned that, for example, school groups have to have a project started before being allowed to visit. We passed the test somehow.
The photos were taken "on-the-fly" as we were introduced to the various features, both large and small. There was no time to compose a scene, or wait for better lighting. The area includes the farmstead area, house, barn, guest house, paths. In the former fields, around the house, the annuals are left to do their own thing, and are mulched each autumn to inhibit tree growth. The age and composition of the forest stands at Shampers Bluff range from shrubby areas with most trees under 25 years old to mature stands with trees over 200 years old. It is a fascinating area with paths in portions. The forest floor has fallen tree stumps used as protection, host for new shrubs, plants, and rhodos to keep their feet dry. In our short visit we were able to see only a small portion of this magnificent and diverse site.
The area took a long time to come under protection. After a single threatened plant was discovered the provincial government (New Brunswick Department of Natural Resources as 'Ecologically Sensitive Lands') became involved to designate a conservation status for some portions and other blocks of land were added from time to time.
In The Photography of Natural Things, page 95, Freeman comments on a Cape St. Mary's photo:  "These towering cliffs on the south coast of Newfoundland are an ideal nesting site for gulls, gannets, and other birds. The grandeur of the location and the sound of the sea and the birds provide a memorable wilderness experience. A visitor becomes deeply aware of the value of leaving large areas of land undisturbed for the protection of natural things. The size of the birds in relation to the cliffs helps to produce the sense of height, and side lighting defines the shapes of the landscape."
In our own province, there are many sites that can and should be added to the dozen or so local NCC sites in Newfoundland. At the presentation, there were several groups present, each with a special niche interest, but all are part of a consistent whole: e.g. CPAWS has a focus on public lands with a goal of preserving of half of all public lands; NCC has a focus on maintaining special private lands, Nature Canada has a broad conservation and education focus.
As with my presentation, I close by challenging all local environmental organizations to do something special in forwarding conservation goals for Canada's 150th birthday.
Dave is a retired member of the Physics Department at Memorial University who has a long history of promoting the conservation and appreciation of nature in this province.  Among other activities, he served on Nature NL's board of directors (1985–1993), was a National Trustee for Canadian Parks and Wilderness Society (CPAWS) and currently serves as treasurer for CPAWS-NL.
by Megan Boucher
The evening started off chilly and slow, however it quickly picked up with bird activity and excitement. We had a wonderful turnout of 35 people for the walk through Bidgoods Park in the Goulds, St. John's. Over the two hour walk we heard and observed 23 different species, including excellent views from the boardwalk of 3 Wilson's Snipe flying above the marsh and hearing the booming bass of the bitterns hidden amongst the reeds. Just after leaving the boardwalk to head into the woods, we had a wonderful surprise and spectacular views of three American Bitterns flying through the sky!
Listening and looking for warblers along the trail edge, we heard the Northern Waterthrush and Blackpoll Warblers. As we continued along we managed to see a Wilson's Warbler, Blackpoll Warbler, and Yellow-rumped Warbler flitting about in the evergreens. The species list is here on ebird.
As the evening grew on, the birds became more vocal creating a chorus of lovely melodies and tunes. As the walk concluded, we ended the evening heading back along the boardwalk with a beautiful sunset while the birds sang on.
Photos by Kaushalya Rathnayake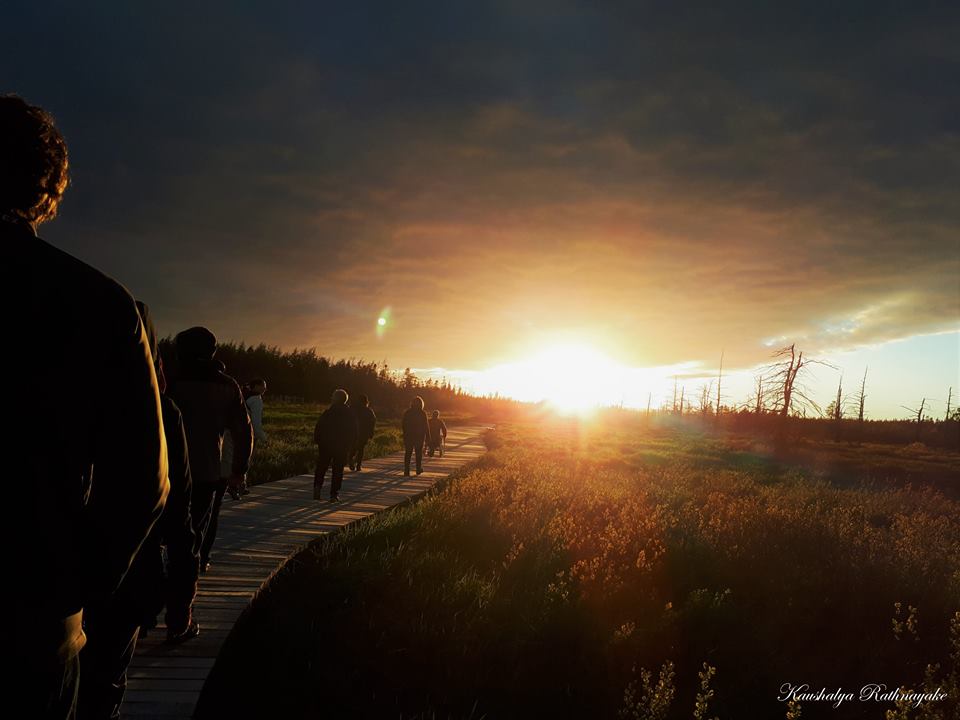 By Justin So
Over the last few weeks there have been more than a few interesting nature sightings around our province.  Check out below some fascinating wildlife stories in the news and online.
• Elliston, NL is one of the best places to view our provincial bird, the Atlantic puffin (Fratercula arctica). A fox was filmed by Rodolphe Devillers trying to get a meal of puffin. The fox bounds across the sea ice and cliffs to find a way up, but is ultimately not successful at getting at the puffins.
• In late May, Gerard Gale in Black Duck Siding in western Newfoundland, captured video of a white piebald moose (Alces alces) as close as three feet away. These moose are predominantly white in colour with spots of pigment and are protected from hunting. Gale said it was a "Once in a lifetime for [him]".
• On May 22, a dead humpback whale (Megaptera novaeangliae) washed ashore in Outer Cove, NL. While initially a fascinating site, there was a lot of debate of how to remove the rotting carcass. A Fisheries and Oceans (DFO) lead initiative saw the removal of the carcass to a local disposal site. However, much of the whale fat that has floated off will likely persist in the water for a while.
• A dead polar bear (Ursus maritimus) washed up in Bristol's Hope, NL. Ann Peddle, who discovered the bear, noted it was an uncommon sighting for the area. The carcass was eventually removed by the provincial Wildlife Division.
• A man in Harbour Breton, NL has been guarding his home from ravens (Corvus corax). The birds can be seen banging against the window panes and pulling apart the rubber seal. Bird expert Bill Montevecchi, indicates that ravens are very intelligent and but may see the reflection in the window as an intruder on their territory.
• A lawn in Kippens, NL has been overrun with an infestation of crane fly (Tipula paludosa) larvae. Homeowner Roland Peddle looked out his window one morning after a large rainfall and saw thousands of grub-like insects crawling all over the land surrounding his home. Entomologist Barry Hicks indicated on social media that many insect populations are episodic and these insects may have escaped their natural regulator factors. He suggested that eventually the populations will crash as they would starve themselves or a build up of parasitoids and pathogens would build up and cause a crash.
• A couple was driving toward Rocky Harbour in Newfoundland's Gros Morne National Park and had a close encounter with a black bear (Ursus americanus) cub. The couple took pictures of the bear from inside their vehicle. Parks Canada advises against stopping to see bears on the side of the road.
• The long May 24 weekend brought a lot of rare birds to the island. At Quidi Vidi in St. John's, NL, a vagrant European Common Swift (Apus apus) caused a stir in the birding community. As Bruce McTavish noted; "The long, narrow wings and sharply notched tail [of the European Common Swift] are different than any other Newfoundland bird. This extremely rare bird at Quidi Vidi Lake kept birders very warm all weekend."
By Julie Sircom,  Grenfell Campus, Memorial University of Newfoundland
It's hard to miss the news that Newfoundland's honey bees are special – Varroa mite, a major pest elsewhere, is absent from the island, and several other diseases have not been found here. Many of the stressors that have led to declines elsewhere aren't a problem here. Far less is known about the island's native bees. There are over 70 species, from tiny solitary bees not much larger than an ant to the familiar fuzzy bumble bees. These bees provide a vital and largely unmeasured service, pollinating both crops and native plants. There would be no berry-picking in the autumn if it weren't for our many native pollinators. Little is known about the health of our native bees, either in terms of the stability of their populations or the types of diseases that affect them.
There would be no berry-picking in the autumn if it weren't for our many native pollinators.
The Canadian Environmental Law Association (www.cela.ca) defines the precautionary principle as the duty to do whatever we can to prevent harm, whether or not we have all of the evidence. In the case of Newfoundland's pollinators, both the native species and the managed honey bees, this means avoiding the possible introduction of pests, disease, and alien species. There are two main ways this might happen: imports of honey bees and related equipment, and imports of the commercially-reared bumble bee Bombus impatiens. There are regulations regarding both, but the latter is seen as less of a threat, based on a number of assumptions.
Although imports of bumble bees were allowed in the past, no permits have been issued in recent years. Due to earlier imports, B. impatiens is currently considered to have low environmental risk. It has been assumed that the bees are disease-free as they are reared in a controlled environment and are not thought to share diseases with honey bees. The commercial nests are also equipped with queen excluders that are designed to prevent queens from leaving the nests and establishing new colonies. Furthermore, B. impatiens is a more southerly species and it is assumed that any escapees would be unable to survive Newfoundland's harsher winters. All of these turn out to be questionable assumptions.
Import permits for B. impatiens have not been issued recently due to rising concern about the potential impact on local bees. Commercially-reared bumble bees have been shown to carry a number of parasites and diseases. These are almost certainly capable of infecting native bees, which may not have the defences to fight such infections. In addition, some of these pathogens are shared with honey bees. Parasite and disease transfer between B. impatiens and other bees is very simple: bees repeatedly visit the same flower as its nectar reserves are replenished. An infected bee can leave behind 'hitchhikers' that survive until the next bee visits the flower. Bees also visit other nests more frequently than you might imagine. If a native bee enters a B. impatiens nest to rob a little nectar, it can very easily become infected.
It is also clear that B. impatiens can overwinter in Newfoundland. Bumble bee nests die off at the end of the season, and only new queens overwinter. In 2015, B. impatiens was imported for supplemental pollination on a cranberry farm in Western Newfoundland. To the best of my knowledge, these were 'used' bees, from lowbush blueberry crops in Nova Scotia or New Brunswick. This is obviously of concern, as they would have been exposed to a range of parasites and diseases in those fields. These nests either were not equipped with queen excluders because B. impatiens is native to the Maritime provinces, or were damaged; either way, an unknown number of queens escaped. In May and June 2016, I collected 24 B. impatiens queens on the farm. These must have come from the commercial nests imported the previous year; no B. impatiens were recorded in any other sampling location.
But what would happen if B. impatiens were to become established in Newfoundland?
So far, there is no sign that any of the queens successfully established a nest, but searching for a newly-established species is like looking for a needle in a haystack. But what would happen if B. impatiens were to become established in Newfoundland? Would it really matter? We don't know, so the precautionary principle dictates that we do our best to avoid it happening.
One possible outcome is the displacement of native species. The queens of B. impatiens are larger than many of our native bees, and in 2016 they emerged early in the season. This raises the possibility of these queens establishing nests in prime locations before some native bees are even active, and usurping nesting sites from smaller native bees that are active at the same time. This includes one of the most abundant species, at least in Western Newfoundland, B. ternarius. This is a distinctive bumble bee with a broad orange band on its abdomen.
A pragmatist might ask why this matters, as long as there are bumble bees to perform the task of pollinating. However, if B. impatiens were to dominate the bumble bee community, important ecological resiliency would be lost. Our diverse native bee community is adapted to local conditions and provides insurance against our often unpredictable weather. If B. impatiens populations crashed, there may be few species to take up the slack. If parasites and diseases carried by these bees were passed to honey bees and led to colony losses, they would be unable to fill the pollination needs of agriculture. There are many other unknowns with regards to the extent of environmental effects of introduced B. impatiens. For example, I collaborated with Barry Hicks (College of the North Atlantic, Carbonear), on a study in Western Newfoundland that suggested that B. impatiens was a less efficient pollinator than native bees.
If Newfoundland is to preserve the special status of its honey bees, and protect its native pollinators, the precautionary principle must be applied. It is tempting to take the easy route that claims to provide reliable pollination and consistent crop yields, but we should have greater faith in our own resources. A few simple farming techniques, such as maintaining native flowering plants on field margins, can ensure a diverse and abundant pollinator community. Meanwhile, my research team and collaborators can continue to collect the missing evidence that will allow us to make informed choices about whether we need supplemental pollination, and how best to deliver it if we do.