'The Osprey'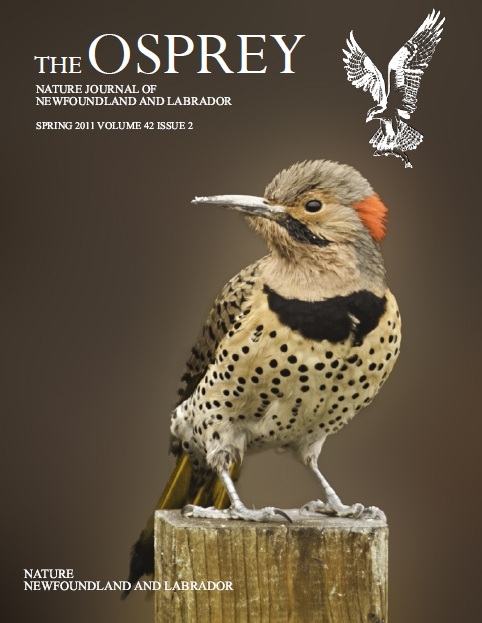 The Osprey is the magazine of Nature Newfoundland and Labrador (formerly the Newfoundland and Labrador Natural History Society).
The Osprey has been published by the society for over 3 decades; it provides a forum for discussion of environmental issues and is a source of information and original research material focusing on various aspects of the province's natural history such as birds, plants, insects, mammals, general ecology and philosophical nature musings. Articles can be submitted by anyone who is knowledgeable about the province's natural history, such as university faculty, students, professional field biologists, amateur naturalists, nature writers and nature observers.
All members of Nature Newfoundland and Labrador can access The Osprey under our issues page – become a member here.
Archived issues can be found here through the MUN Library. If you like archived issues of the Osprey, become a member to check our new content!
If you would like to write for Nature NL, articles and materials of general interest to the Nature NL mandate are encouraged and can be sent to osprey@naturenl.ca. This can include rare animal sightings, items covering meetings and outings, issues, projects and perspectives.
Articles should be prepared in MS Word or text file and illustrations or photos are welcome. Font, margins, formatting and spacing can be adjusted by the editor. Submissions will be reviewed by the editorial staff and those deemed appropriate will be published. 'The Osprey' does not generally accept anonymous submissions, advertising or solicitations. Views expressed in "Letters to the Editor" are not necessarily the views of the editor or Nature NL.