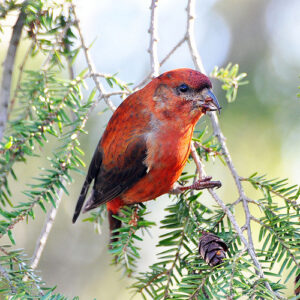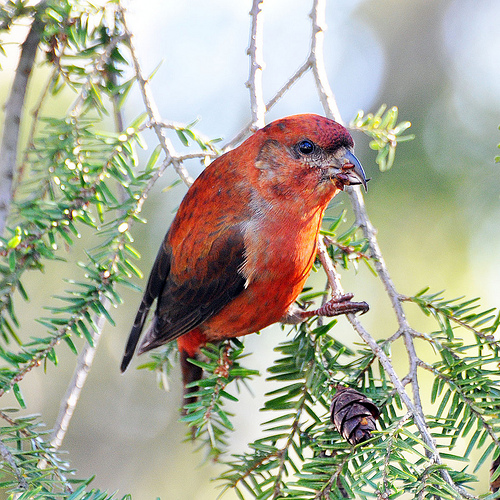 Red Crossbill are a medium-sized finch, which uses its crossed beak to pry open conifer cones.
The Newfoundland subspecies, percna, are listed as endangered under both provincial and federal endangered species legislation. Red Crossbill are associated with conifer forests, with the highest numbers of observations occurring in the older, mature forests of western Newfoundland. The island of Newfoundland may be the only location where this rare subspecies breeds.
Males are a dull red colour with brown shading and females are grayish olive with yellow rumps.  They look very similar to White-winged Crossbills, but can be distinguished by the lack of white wing bars that White-winged Crossbills have.
Many recent sightings in Newfoundland have been from bird feeders at houses and cabins throughout the Island. Please keep on the lookout for these colorful birds and report any sightings (along with photos and GPS coordinates, if possible)!
Please pass along any sightings and photos to the Wildlife Division at endangeredspecies@gov.nl.ca or call 709 637-2025.
Thank you for your support!
We will be taking orders for our Nature t-shirts at our next meeting, Thursday May 19.
The cost is $25.00 per t-shirt/pre paid.
The t-shirts come in royal blue, 100% cotton, women's, men's and unisex versions. Because sizing is on the small size, samples will be available for you to try on to our May 19th meeting.
If you want a t-shirt, but cannot come to the meeting, please contact sharon@howdoes.ca before May 25th.
Nature Newfoundland and Labrador is holding our annual clean-up of Long Pond on Saturday, May 7, 2016, starting at 10:00 a.m. Meet behind the "Splash" facility on the south side of Long Pond (behind the MUN School of Business and other campus buildings). We anticipate that Clean St. John's will supply garbage bags and collection. Volunteers should bring their own gloves and wear boots. For more information, email: naturenl@naturenl.ca

Please join us for Alvan Buckley's presentation on "Birding with eBird" on Thursday April 21, 2016, at 7:30 p.m. in the Science Building, Room SN2067, on the MUN campus.
As a keen bird-watcher and "eBirder", Alvan is excited to share his passion about eBird with others. He has been an avid birder for 6 years, and has traveled across the country volunteering with the Canadian Wildlife Service and the Long Point Bird Observatory; he has also worked as a birding guide at the renowned Point Pelee National Park. If not studying medical books, or roaming hospital floors, he can be found biking around town eagerly checking the local hotspots for migrating birds and learning about our flora and fauna. For the past 3 years, Alvan has volunteered as one of the Newfoundland reviewers for eBird and helped promote the program with the local community.
eBird is an online checklist program where anyone is free to join and submit their observations. Everything that is submitted is added to a permanent database and archived for use now and in the future. eBird provides a great tool for individuals, organizations, researchers, conservation groups, and land managers to access a huge amount of information about the distribution and abundance of the world's birds. Over 1000 people have already contributed sightings to Newfoundland's database, totaling close to 50,000 lists. Come learn how you can explore all this data to learn about our birds, and see how easy it is to record your sightings.
---

Hope you can come to the rescheduled the Nature Newfoundland and Labrador AGM and Members/Friends Slide Show.
It will be on Thursday, March 24, 2016, at 7:30 pm in the MUN Science Building, SN-2067 (same time and place).
************
FULL NOTICE
Nature Newfoundland and Labrador Annual General Meeting & Members'/Friends' Slideshow
Thursday, March 24th, 2016 at 7:30 PM
MUN Science Building, Room SN 2067
Our Annual General Meeting: There will be brief reports from the Board on our activities over the past year, as well as nominations and elections to our board.
Our Members'/Friends' Slideshow: Bring a handful (~5-15) of your favorite photos to share with us, preferably as a powerpoint presentation on a flash drive. For further information please contact naturenl@naturenl.ca
We need your help. Please consider volunteering some of your time and skills to share the work of our organization.