By Megan Boucher
Posted March 16, 2018
It has been an odd winter here in St. John's, NL with not much ice or snow leading up to the Gull workshop on February 17th. As usual, it was another cold breezy day at Quidi Vidi with an early morning snowfall. This year our team consisted of Jared Clarke, Lancy Cheng and Alvan Buckley, three knowledgeable local birders to teach everyone about the winter gulls.
Even though there wasn't any ice on the lake, our group of 60 participants still managed to see five species of gulls. These included Great Black-backed, Herring, Iceland, Glaucous, and Lesser Black-backed gulls. Traditionally the walk follows the trail from the Dominion Parking Lot towards the Virginia River Outflow, however due to the lack of ice this year we remained at the Rennies River area at the west end of Quidi Vidi.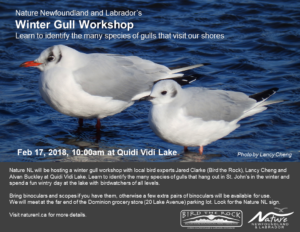 Did you know that Quidi Vidi Lake is internationally known for gull watching? The abundance and diversity of gulls attracts birdwatchers from all over the world.
Nature NL will be hosting a winter gull workshop with local bird experts Jared Clarke (Bird the Rock), Lancy Cheng and Alvan Buckley at Quidi Vidi Lake. Learn to identify the many species of gulls that hang out in St. John's in the winter and spend a fun wintry day at the lake with birdwatchers of all levels.
Bring binoculars and scopes if you have them, otherwise a few extra pairs of binoculars will be available for use. Nature NL's Winter Gull Guide will also be available for purchase ($5.00).
We will meet at the far end of the Dominion grocery store (20 Lake Avenue) parking lot (the northeast end of the parking lot, closest to the Lake – see the orange circle on the posted map). Look for the Nature NL sign. This is an outdoor event so please dress for the weather. Hope to see you there!
Saturday, February 17th, 2018, 10 am, at Quidi Vidi Lake, St. John's (meet in Dominion Parking Lot).