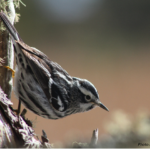 Explore the colourful and charming birds of Bidgood's Park (Goulds, NL) with Megan Boucher (local birder and Nature NL boardmember) on Thursday June 15th at 6:30pm. This small natural area donated by the Bidgood family was turned into an accessible park in late 2014 and since then has proven to be an entertaining place for birders as proven by the
85 species
documented there.
We will meet at the Northwest corner of the park in the gravel parking lot on the left-hand side of Power's road (from the turnoff on Backline Road). On the park map (
https://www.grandconcourse.ca/wp-content/uploads/2015/02/Bidgood-Map-2-Oct14.pdf
), this is the secondary entrance parking lot, #4 on the map. The walk will last about 2 hours and is accessible to wheelchairs. The walk is open to everyone no matter what birding level. Please bring binoculars and dress appropriately for the weather.
Did you know that Quidi Vidi Lake is internationally known for gull watching? The abundance and diversity of gulls attracts birdwatchers from all over the world.
Nature NL will be hosting a winter gull workshop with bird expert
Jared Clarke
at Quidi Vidi Lake. Learn to identify the many species of gulls that hang out St. John's in the winter and spend a fun wintry day at the lake with birdwatchers of all different levels.
Bring binoculars if you have them, if not we will have a few extra pairs to lend.
We will meet at the far end of the Dominion grocery store parking lot (the northeast end of the parking lot, closest to the Lake). The Dominion is at 20 Lake Avenue next to Quidi Vidi Lake. Meet at the bright yellow car (and look for the Nature NL sign). Please dress for the weather. Hope to see you there!
Saturday, February 4, 2017, 10 am, at Quidi Vidi Lake, St. John's