I wouldn't stop talking about one of my favourite apps, so the editor of The Osprey asked me to write about it. I use it myself, but also bring it to Nature NL events and other workshops so that other people can play too. This isn't sponsored or encouraged by the company or anything like that, I just really enjoy it (arguably, it's marginally more useful than all the time I spend scrolling through bird pictures on Instagram) – and thought other naturalists might too – Laura King, Nature NL VP
Larkwire is just an app. But like any good app, it has the potential to make life better – in this case, for the bird nerds.
You might be familiar with the repetitive "chicka-dee-dee-dee" of the forest – that's the Black-capped Chickadee. But what about the hundreds of other bird species you might hear and see in Newfoundland and Labrador? Bird vocalizations (songs, calls, grunts, contact calls, chip notes, etc) are hard to learn. But once they are learned, they allow a birder to detect vastly more species. In one study, 90% of all birds in a certain forest could only be detected by ear, so if you are only birding with your eyes you could certainly detect more birds if you added in their sounds. Setting aside the birding aspect, I find that knowing bird sounds makes any old hike with friends more interesting and varied, as you can know, appreciate, and anticipate what's around you without dragging around heavy binoculars all the time. Like an undercover bird nerd…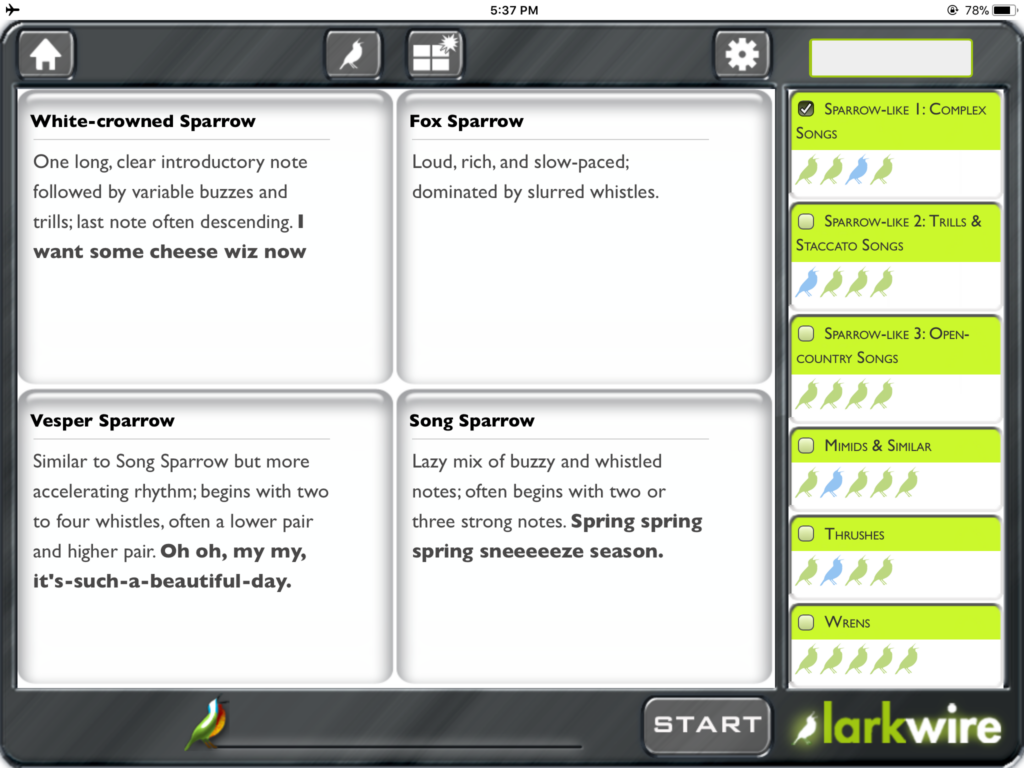 In other words, birding with your ears and eyes (let's call it multisensorial birding to be fancy) can open up a world of biodiversity all around us.
Larkwire is a game. The game is that a sound is played, and the player identifies or guesses the species (or admits they don't know it yet) – sounds simple. But the app is 'gamified' – as you guess the species over and over, you level up through a variety of colours for each bird. This keeps the player interested because you can actually see your progress, as you improve by playing.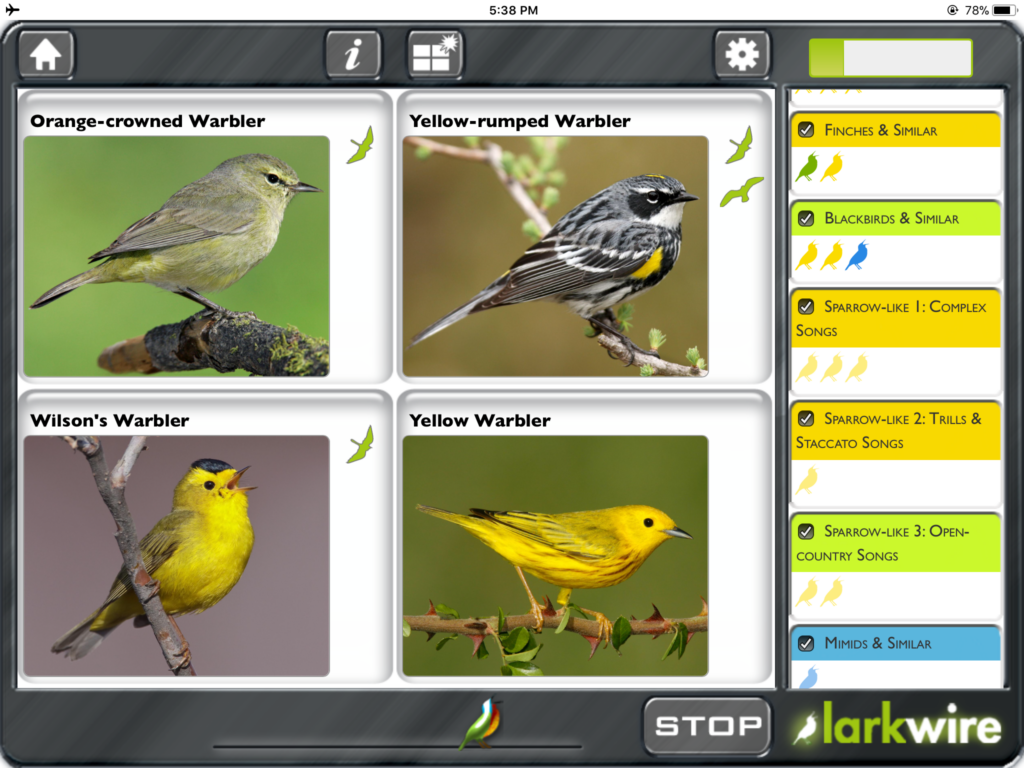 Four levels (Beginner, Intermediate, Advanced, Expert) allow anyone to jump right in to the app at the appropriate challenge. But more importantly, the app was developed by an ornithologist and a cognitive psychologist, so the app 'understands' which species and sounds you are having trouble with, and which one you already know.
This means you'll maximize your time on the app actually working on species or sounds you're trying to learn, instead of going over the basics again and again.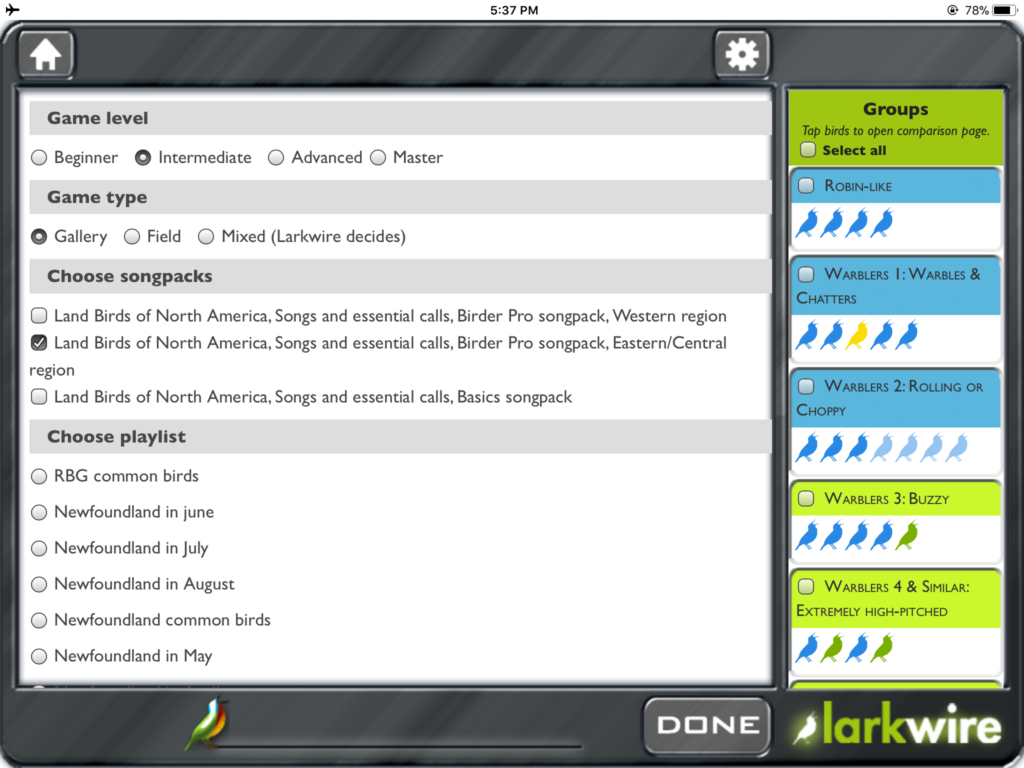 The other neat feature is the ability to set up lots of custom 'playlists' in the app, as above. This lets you focus on certain geographical areas (such as for an upcoming trip) or seasons (for example, just the birds that are around in winter). In many other ways as well, the app is customizable; you can play within certain families and groups.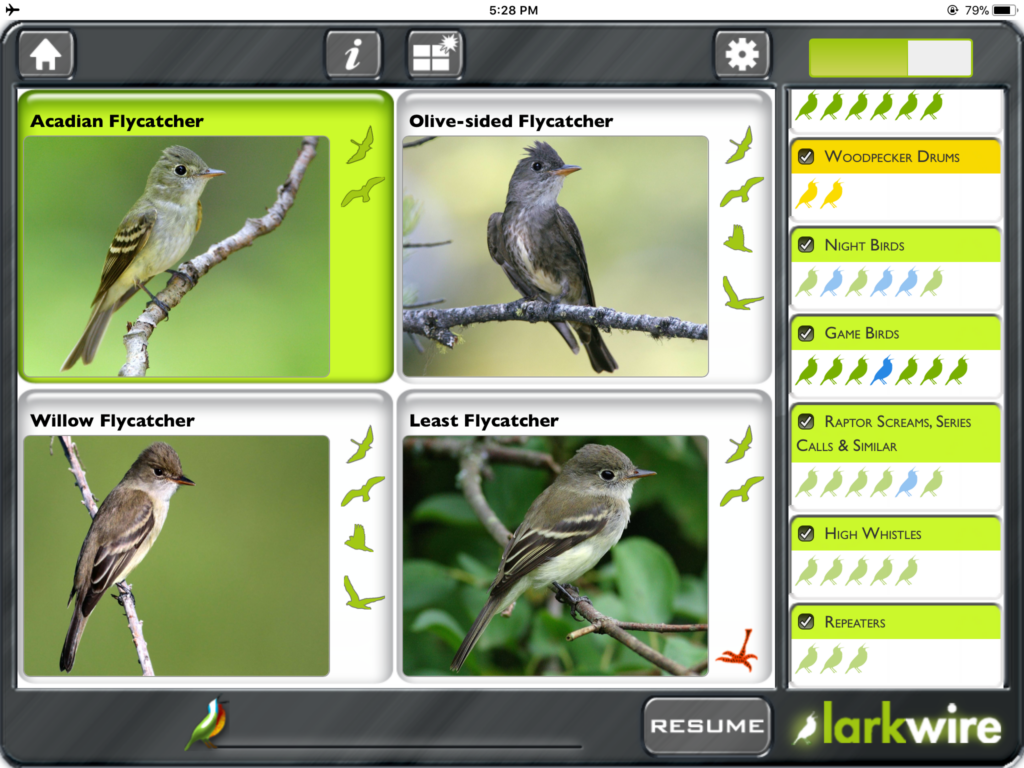 Birders and learners have always been able to listen to recordings to learn their birds. But the visuals, game, and customizations in Larkwire make it a lot more fun and easy to use. Hopefully this will allow for a whole new group of people to become interested in vocalizations, while allowing expert birders to practice their skills – especially during our long winters. Try it for yourself!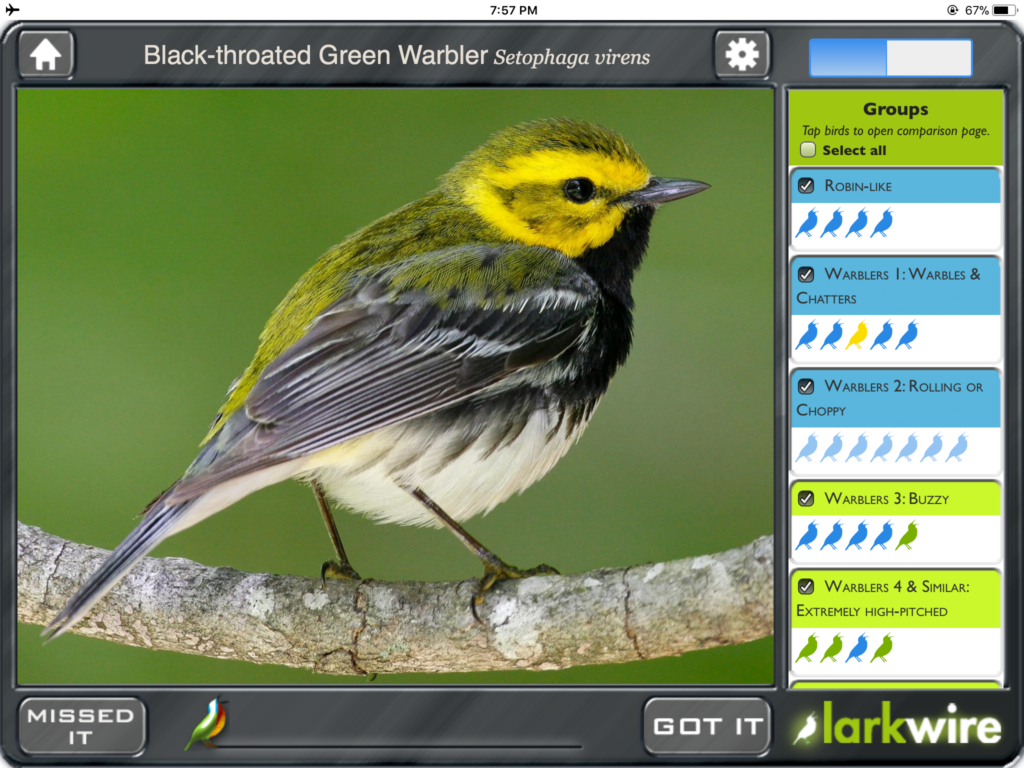 Photos by Sara Jenkins & John Jamieson
Posted November 22, 2018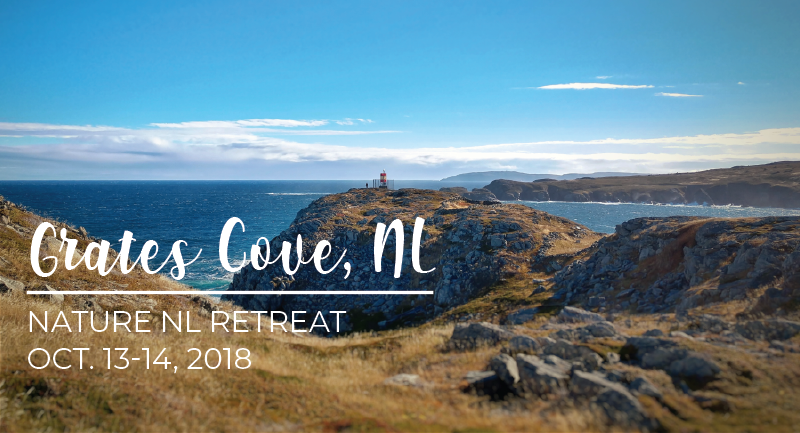 This chilly winter weather has us thinking back on some of the fun we had before the snows hit.  This October, as a thank-you to our valued members who make all of our programming and educational activities possible, we organized a members-only weekend retreat to Grates Cove, NL.  We chose Grates Cove because its remoteness, rugged beauty, and the ingenuity of this community's adaptation to both the natural landscape and changing lifeways of Newfoundland and Labrador inspire us to get out and celebrate both our province's natural heritage and our role within it.
Grates Cove is the northernmost community on the Avalon Peninsula, located at the tip of the Bay de Verde Peninsula and situated in the eastern hyper-oceanic barrens ecoregion.  This ecoregion is restricted to several isolate localities in Newfoundland and is characterized by extensive carpets of heath with diverse lichen, moss, and ground plant communities. In the fall, the entire landscape seems ripe with edible bounties of berries.
Continue reading →
Looking to brush up on your naturalist skills, learn more about the wildlife around us, or just identify that weird looking bug you found in your backyard? Apps can be great too of course, but sometimes flipping through a book that you know is specific to your location is the best. Here's a handy list of some field guides that are great for the Island of Newfoundland (and some cover Labrador or all of Atlantic Canada also). These field guides aren't endorsed by Nature NL and we don't receive any compensation; we just have been asked what we recommend and wanted to share. We know that as a beginning naturalist it can be hard to figure out what to buy and where sometimes. Enjoy!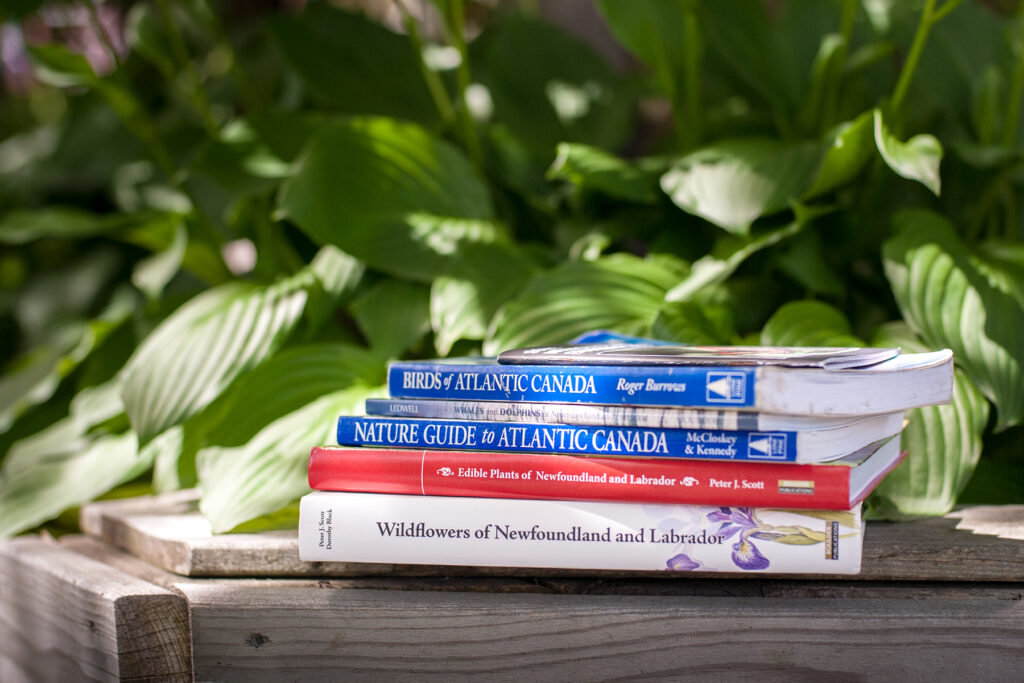 General nature guide

McCloskey & Kennedy – Nature Guide to Atlantic Canada
A great guide for beginners (and even better, they can be found at many major grocery stores)
By Justin So
Posted April 26, 2018
I was admiring the bird photographs on the Newfoundland Birdwatching Group on Facebook when I stumbled upon Brandy Barry's redpoll painting that uniquely used a feather as a canvas. The painting was absolutely lovely and clearly showed her enthusiasm for song birds. Brandy shared the redpoll painting on the birdwatching group as she knew the members enjoyed birds as much as she did. She received great response for her work and has since gone on to paint many other beautiful species of birds. In this interview, Brandy shares her inspiration from nature, her admiration of birds, and the importance of art in her life. To see more of Brandy's work, visit her Facebook Page: Brandy Barry Art.
By: Sabina Wilhelm, Canadian Wildlife Service
Posted April 17, 2018
Editor's Note: In our Research Spotlight Series we shine a light on exciting research in our province. In this post we showcase the Canadian Wildlife Service.
The Canadian Wildlife Service (CWS) Colonial Seabird Monitoring Program focuses on assessing the population size and trends of 20 species of seabirds across the four Canadian Atlantic provinces, namely Nova Scotia, New Brunswick, Prince Edward Island, and Newfoundland and Labrador.  Continue reading →