With Forager And Chef Lori McCarthy
Posted March 5, 2019
You Can Eat The Woods For Dinner
Lori McCarthy gets excited about food. Wild food, traditional food, the food that nourished our ancestors and our culture, the food that makes us who we are. "It's my belief that our foodways are stories to be shared" she says. "Embracing the past, holding strong in the present, and growing with the future, they shape who we are as a people." Rooted in the land and sea from which our traditional foodstuffs spring, Lori's relationship with cultural foods and the land borders on the spiritual, her respect for the natural world reminiscent of an earlier time when understanding of nature's cycles meant life or death.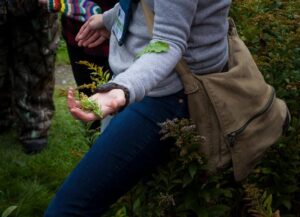 Join Lori McCarthy (Cod Sounds) and NatureNL on a foraging hike – September 29th, 2018. We will head onto the Sugarloaf Path, a scenic coastal hike with views of Quidi Vidi Village. Along the way we will share the wild edible plants that have helped make our Province a culinary destination. Enjoy some wild tea with homemade tea buns and local preserves.
Meet at the Sugarloaf Path trailhead on Saturday, September 29th at 9 AM.
Dress for the weather with comfortable footwear for hiking. All hikes are weather-dependent and will be announced the evening before on naturenl.ca
The cost is $50.00 for NatureNL members, $70.00 for non-members.