The Wild Things Scholarship recognizes the enthusiasm and efforts of post-secondary students whose volunteer activities have helped conserve or enhance nature in Newfoundland and Labrador. The award was funded by Wildland Tours and St. John's businessman Dave Snow, a well-known conservationist in Newfoundland and Labrador and an alumnus of Memorial University. To date, the scholarship has awarded more than $25,000 to students.
The Scholarship presentation took place on November 7th, with representatives from Nature NL, Memorial University and the Snow Family present. See the article by Kelly Foss in the MUN Gazette here.
The Dean of Science at Memorial, Dr. Mark Abrahams, presenting at the Wild Things Scholarship ceremony, Nov. 7th, 2018.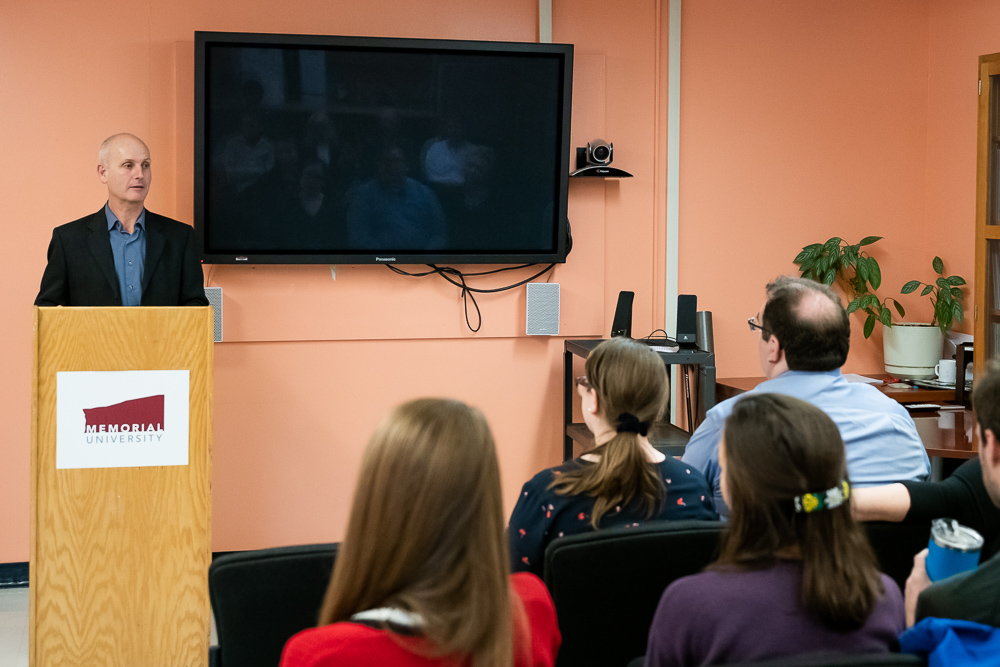 Committee Report
By Rita Anderson
The 2018 Wild Things Scholarship competition received 15 applications from around the province; 9 applications were complete. Rita Anderson coordinated the competition, while Sara Jenkins, Jennifer Sullivan and Tara Stucklass independently evaluated the applications. We are pleased to note that volunteering on behalf of the environment and nature is alive and well, as several applicants had volunteered an amazing amount of time and energy on behalf of our provincial nature. Impressively, the volunteer activities of two applicants were so striking that the committee decided to make two awards this year.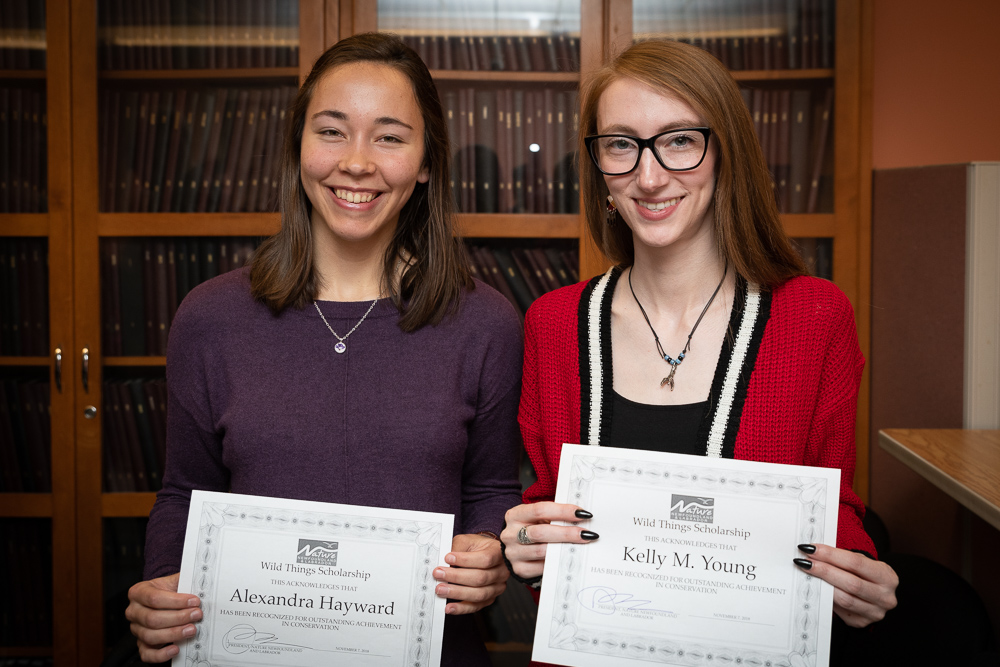 2018 Wild Things Scholarship Winners, Alexandra Hayward (left) and Kelly M. Young (right).
Alexandra Hayward
Alex is from Mt. Pearl, NL on the Avalon Peninsula. Following completion of a B.Sc. as an Ecology and Conservation Biology major and Geography minor at Memorial University in the Spring of 2019, Alex hopes to pursue environmental law, beginning in September 2019.
Volunteering has always been an important part of Alex's life. In high school, she volunteered with the Environment Club for 3 years, leading discussions about the environment, organizing fundraisers, clean-ups, planting days, and a Waste-Free Lunch Day initiative; she was also involved in forming a student newspaper club, to which she contributed articles about environmental concerns, and she helped start and lead an outdoors club to get students and staff out in nature. Since high school, Alex has been involved in a range of activities from joining local climate marches to writing to politicians. During the year she spent as the Environmental Representative for the undergraduate Biology Society, she organized a clean-up of Burton's Pond and a recycling program for the society. Last summer, she helped set-up and lead games and activities for kids at the Railway Festival in support of the Kelligrews Ecological Enhancement Program (KEEP). Alex was centrally involved in bringing the Blue Dot Movement, a grassroots movement for environmental rights, to this province. After seeing David Suzuki speak on his Blue Dot Tour in 2014, she worked with her high school Environment Club to raise awareness in Mount Pearl, which ultimately led to a municipal declaration for Mount Pearl citizens' Right to a Healthy Environment. Since then, Alex has become a regional Blue Dot Movement Ambassador, which involves online meetings and training with ambassadors across the country, meeting and engaging with her MP, Seamus O'Regan, to educate him on environmental rights, writing to newspapers, engaging local organizations, and social media actions.
Alex is motivated to help shape a future where we take better care of each other and the natural world that nourishes us. Hence, in the future, she expects to focus on systemic change, helping political entities engage in environmental concerns. Of course, she is also looking forward to assisting with the local Nocturnal Owl Survey this spring, and getting better at reporting her bird sightings over the summer.
Kelly M. Young
Kelly is from the west coast of NL. In 2016, she obtained her B.Sc. in Biology with a minor in Geography at Memorial University. Over the past year, Kelly has been volunteering on a climate change project (see below) and taking additional courses relevant to her future goals. She has applied to do a M.Sc. in Environmental Science at Memorial University beginning in September 2018.
As a member of the Qalipu Mi'kmaq First Nations Band, Kelly has a deep respect for the environment and understands the necessity of conserving our natural resources and our biosphere. Kelly was involved in the Girl Guides of Canada and credits their motto, "Leave no trace and leave it better than you found it" as the inspiration to pursue work that will assist the conservation of the environment. Picking up trash on trails during walks or during organized events, such as beach and other cleanups, are very important to her. She notes the importance of these activities, in that they allow average citizens to do their part to improve their community and local green space. Kelly currently volunteers on a climate change project led by Dr. Joseph Wroblewski and Dr. Robert Davis, along with others at Memorial University to reduce methane emissions produced by oil extraction and storage processes; Kelly produces diagrams for the technological proposals.
Kelly recognizes the value of communicating environmental issues across different platforms to reach a wide variety of audiences. Her article in NatureNL's journal, "The Osprey" in 2015 focused on the threat of fracking to Gros Morne National Park; in the same article, she highlighted the importance of social media in how the younger generation shares their concerns for the future of this province's environmental protection. She shares scientific news, as well as environmental issues and alerts, on her public Facebook page: "Pursuit of Science". Kelly keeps herself up-to-date on environmental issues in the province and elsewhere as a member of many national and international environmental groups. Being involved in these organizations allows her to e-mail members of the provincial and federal governments on environmental issues that she believes require action here in Canada, as well as Newfoundland and Labrador.
Most recently Kelly has joined the campaign to ban single-use plastic bags in the city of St. John's, as well as the province of Newfoundland and Labrador. In line with her future studies and career goals, Kelly intends to work diligently to help curb climate change, in order to protect our atmosphere, our oceans, our water cycle, and especially our land.