These tales from the North have been shared by Lancy Cheng who leads events with Nature NL including the Gull workshop. Or you may have seen him when birding around town especially at Quidi Vidi Lake where he would be identifying gulls during all seasons, especially winter! Hope you enjoy his adventures.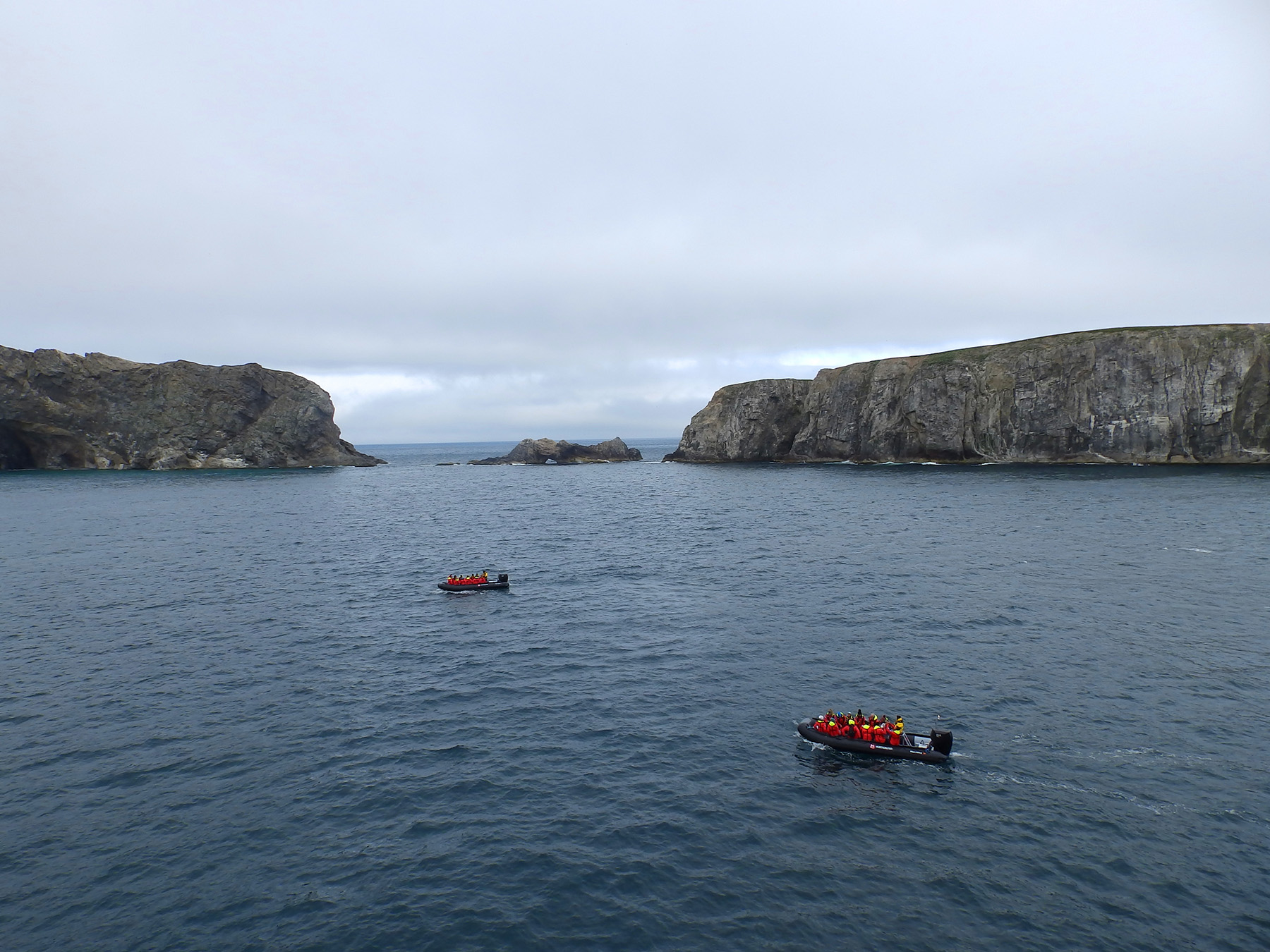 By Lancy Cheng
To escape the unbearable heat of summer, I jumped on a flight and fled to the north. I joined the expedition team of Hurtigruten for MS Roald Amundsen's first Arctic voyage. It was a great opportunity to appreciate the breathtaking scenery, even for someone like me whose sense of beauty is normally below zero. Plus, there were birds. They are the chicken soup for my soul.
Maybe I shouldn't mention chicken soup while talking about birds?
Dovekie, also known as Little auk in Europe, were the most abundant species. This tiny alcid has a short body, neck, legs and wings. Being short birds doesn't give them elegance but rather the cuteness in flight. Hovering or gliding is not in their dictionary. They must flap their wings all the time and fast like bumblebees. This unique flying pattern is their trademark, making them easy to identify for those who didn't bring binoculars. Dovekie winter in Newfoundland, so they were no strangers to me. However, there is a little difference: they breed in Arctic, same as Purple sandpiper, Sanderling and Snow bunting. We are used to their basic plumage. Seeing them in breeding plumage is like attending an ex's wedding:
"Wow, they're stunning!"
Northern fulmar is the second common species. Unlike Dovekie, fulmar glide a lot. This flying pattern plus a pair of stiff wings made fulmar another identifiable species without binoculars. This also made it easy to identify the third most common species: if a fulmar-like bird was not a fulmar, it's probably a Black-legged kittiwake. I carefully checked every single immature kittiwake for rarities. No surprises. But I was surprised my easy-lazy birding tricks worked so well that, by the end of the trip, people without previous experience were able to identify these three species with naked eyes and with 90% confidence.
By the way, dovekie, fulmar and kittiwake were the majority (over 90%) of the birds we saw at sea.
Sea birds in Arctic and North Atlantic are generally the same. This explained why among 11 life birds, or "lifers", I saw during the trip, only one was a true sea bird: Great skua. I got more lifers from land birds, of which Barnacle goose was the best. It's long overdue to find my first in Newfoundland and, therefore, meeting them in Arctic was comforting. It also fulfilled two of my expectations in birding: banded birds and birds with color aberrations. Barnacle goose breeds in Ny-Ålesund. They were tame in town and I easily recorded 11 banded birds. These geese were banded in Ny-Ålesund but have been sighted in mainland Norway and UK as well. The oldest one was at least 17 years old.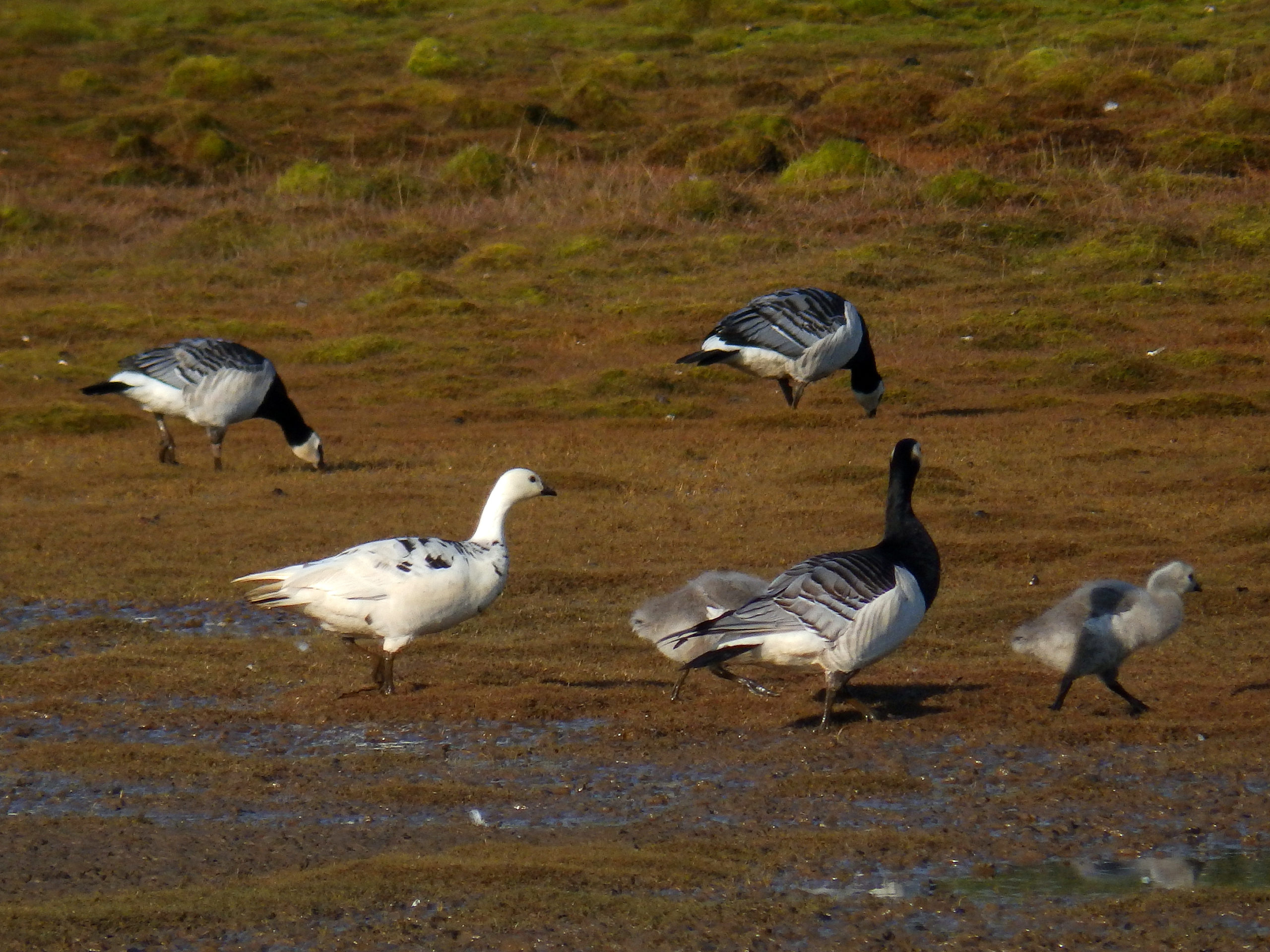 The Barnacle goose with color aberration was another story. Our ship was docked in Longyearbyen. I received a photo of a white Barnacle goose in the evening, followed by the longest night in my life. A sleepless night with the goose in my dream. In the morning, a wild goose chase started once it became possible. There was not much information available, but birder's instinct led me to her. A magnificent bird! She belonged to a family of four. Her partner was a normal looking guy, and it was too early to tell the phenotype of the two goslings. Mission accomplished, I started feeling the consequence of no sleeping. I don't remember how I went back to the ship. One thing I am sure is I was not a walking dead.
Have you ever heard no one is allowed to die in Longyearbyen?
Side notes:
Mammals
We've encountered many exciting mammals. Polar bear was no doubt on top of everyone's wish list. I saw two but more had been sighted by others. Finding a group of 25 walruses was a treat. An Arctic fox was carrying two things: a transmitter and a Barnacle gosling. There were muskox, whales, seals… but, the title of the best mammal belonged to Narwhal. A pod of estimated 10-15 was swimming close to shore but on the other side of the bay. Well, you couldn't ask too much. I had to admit that I was more or less distracted by some Pink-footed geese while others were working on the ID of these mysterious creatures. I didn't realize how lucky I was until I learned that it was the first time for the marine biologists to see Narwhal. A lifer for many!
Young explorers
I had never known I could get along with next generation. I'm still unsure about it but it worked extremely well out there. A 10 year old boy had become my best buddy after attending my bird lectures. He once asked SEVEN of my colleagues the same question "Where is Lancy?" and, when he finally found me, dragged me to the deck because he wanted me to see a polar bear. I was genuinely touched. A 15 years old young man always showed me the birds he photographed and, one day, he almost gave me a heart attack: he found a white morph Gyrfalcon, the Holy Grail raptor of Greenland! I told him he should be proud, and most birders would be jealous. He was proud! I was only a little "worried" when they started talking like birders. We all know how addictive birding could be, that not every adult can handle it properly. Me neither.
Climate
I was feeling the change: 15°C or above was not uncommon during my stay in Arctic. I was more sweaty than shaky while some people were in shorts. I might use one proverb to comfort myself: if summer comes, can winter be far behind? Looking forward to it (also for the sake of gulls if you know what I mean, or, know me).
Acknowledgement
I thank Dr. Larry Griffin of WWT for providing bird banding information.
I apologize for the photo quality. I am not a photographer…