By Holly Hogan
Posted May 23, 2018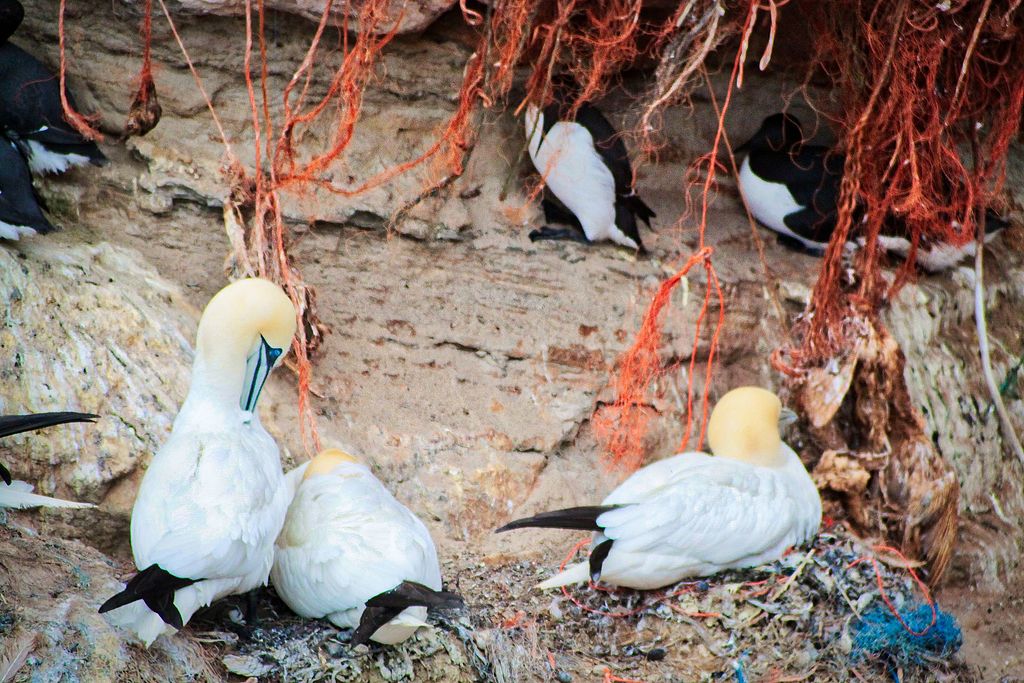 What is plastic and why are we suddenly so concerned about it?
Plastic is a petroleum-based product, made up of many long carbon-based strands. There are different types of plastic; all have strong carbon bonds that make plastic durable and lightweight. This quality also means that plastic molecules do not break down. Rather, items simply break into small pieces and eventually become what is known as microplastics. Fabrics made with plastic (e.g. fleece, polyester) shed fibres when they are washed, adding microfibers to the marine system.
[pullquote]…one million water bottles are sold each minute around the world. Of these, only 8% are recycled.[/pullquote]
Modern plastics came into large-scale use after WWII, making previously unaffordable products cheap, easy to mass-produce and accessible to everyone. Plastics are now used in virtually everything. Single-use plastics are particularly attractive to consumers, providing huge convenience at a very low cost. In fact, we have become addicted to the convenience plastic has afforded us. Therein lies the problem. Because plastics do not break down, they have been accumulating ever since their creation. In the 1950s, the world's human population was 2.5 billion. Today it is 7.5 billion. With our increased dependence on plastic and coinciding population explosion, we find ourselves in an environmental crisis. Single-use plastics are the major culprits – water bottles, straws, plastic shopping bags, packaging and so on. The statistics that have been coming to light are dire and disheartening. For example, one million water bottles are sold each minute around the world. Of these, only 8% are recycled. The rest end up in landfills, or as litter that inevitably ends up in the ocean. One dump truck load of plastic is dumped in the ocean every minute; 8.8 million tonnes a year. It is no wonder that marine life is literally choking to death on our plastic waste. And we've seen the images that testify to it –whales starving with stomachs full of plastic bags; likewise for sea turtles and seabirds. Animals are dying from either ingesting plastic, or becoming entangled in it. The problem is also not limited to highly populated parts of the world. Ocean currents mean that garbage travels globally. I am a wildlife biologist, so I won't talk about the leachate from plastic water bottles that may be making us sick, or the microfibers that are making their way into the fish we consume. But it's worth considering.
There are three ways that plastics can enter marine organisms;
1. Random ingestion – accidentally eating plastic while feeding on other prey. This can happen to any marine animal. Microplastics are a big culprit here; they are likely not even detected.
2. Incidental ingestion – eating plastic because of the prey attached to it. For example, some species that feed on krill are actually attracted to plastic:
Hard plastic forms a perfect substrate for algae (phytoplankton) to grow on. In turn, krill (zooplankton) graze on this algae. When grazed on, the algae release a chemical called dimethyl sulfide (DMS), which has a strong scent. Some species, including the tube-nosed seabirds, have a highly developed sense of smell and are attracted to the smell that is associated with krill aggregations. They are therefore attracted to and ingest plastic in pursuit of krill.
3. Intentional Ingestion – mistaking plastic for prey and actively pursuing it. This is a problem for species that feed on gelatinous or soft-bodied animals (e.g. jellyfish, squid, octopus). This includes an array of species, from toothed whales to sea turtles to albatross. Soft plastic mimics the shape and movement of these prey as they undulate in the water column. This is likely the reason that so many whales are dying from plastic bag consumption. Similarly, microplastics are mistaken for prey by zooplankton and subsequently work their way up the food chain.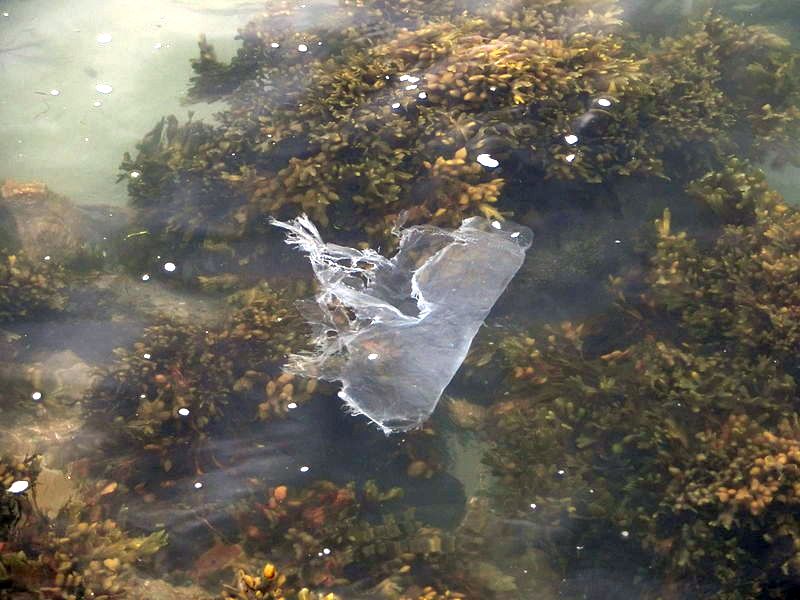 Should we be concerned about our local marine environment?
Our province has literally millions of good reasons to keep plastic waste out of our oceans. Newfoundland hosts two of the largest leach's storm-petrel colonies in the world (numbering in the millions); two of the largest Atlantic puffin colonies in North America, and huge concentrations of many other seabird species. It is also a critical feeding area for humpbacks and other whale species. In summer, the endangered leatherback turtle is also found in our waters. We have not only a local, but an international responsibility to ensure that our incredibly productive waters are protected from plastic pollution. We are not doing a very good job so far. I am at sea as we speak. In the past two days, in a tiny slice of the ocean at least 15 km offshore, I have seen: plastic bags (one off Witless Bay Seabird Ecological Reserve), a large sheet of floating plastic, sandwich wrap, a bleach bottle and a candy wrapper.
So there's the problem, but how do we fix it?
Focused efforts are being made on several fronts to combat the problem. There are groups dedicated to the physical removal of plastic by hand, and funded by public support. There are also technologies under development that will remove plastic physically, or break it down chemically. However, we are far from a viable solution to dealing with the plastics that already exist. It is absolutely essential that we change our insatiable appetite for the stuff. Reduce, Reuse, Recycle: the adage has been around for decades. It is ignored by most, but even those that want to be responsible, jump straight to "recycle". Recycling should actually be the last resort. More focus has to be placed at the front end: Reduce. Eliminate, even. Eliminate single-use everything. Buy products that are made from natural materials. Consume less, period. There are a plethora of websites and Facebook pages that provide helpful suggestions and alternative products. Check them out. Perhaps most importantly, lobby your municipal, provincial and federal governments. Let them know that it is an important issue that is not going away. Be part of the change that keeps plastic out of our water, our fish, our food; our ocean.