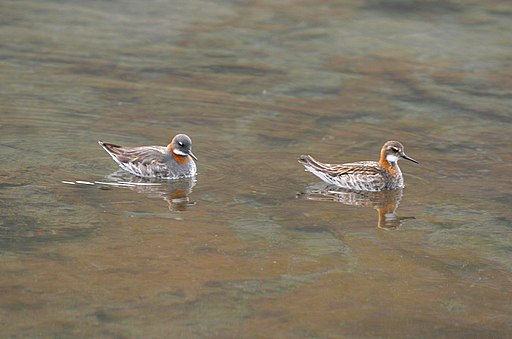 Red-necked Phalarope is a small shorebird that appears to be in decline. This species is proposed to be listed Special Concern under the Species at Risk Act. (Photo By Elma from Reykjavík [CC BY 2.0 (http://creativecommons.org/licenses/by/2.0)], via Wikimedia Commons)
According to Nature Canada's calendar, May 20th is "Endangered Species Day". Established by the United States Congress in 2006 (endangered.org/), it is not officially recognized in Canada. However, we do recognize May 22nd , the International Day for Biological Diversity, which celebrates the International Convention on Biological Diversity (CBD), finalized by the United Nations in 1992.
As a signatory to the CBD, Canada has set specific goals and targets to be attained by 2020. Included is the following: (Target 2.) "By 2020, species that are secure remain secure, and populations of species at risk listed under federal law exhibit trends that are consistent with recovery strategies and management plans" (biodivcanada.ca).
The federal Species at Risk Act (or SARA) serves the purpose of preventing the disappearance of wildlife. We can do our part for biodiversity by participating in the SARA process.
Species are assessed by the Committee on the Status of Endangered Wildlife in Canada (COSEWIC), made up of experts from across Canada ( cosewic.gc.ca/ ). SARA is implemented through its Schedule 1, the List of Wildlife Species at Risk. Species on this list classified as Extirpated, Endangered or Threatened receive the protection of prohibitions and are subject to recovery planning requirements. Species listed as Special Concern are subject to management planning requirements. Schedule 1 currently lists 521 wildlife species at risk (registrelep-sararegistry.gc.ca/species/schedules_e.cfm?id=1).
The SARA Registry office is seeking informed public input regarding proposed Schedule 1 amendments relating to 25 terrestrial species, of which four are found in Newfoundland and Labrador. These are:
Griscom's Arnica – a flowering plant with very limited distribution in limestone landscapes on the Northern Peninsula. Proposed to be listed as Threatened.
Yellow-banded Bumble Bee – an important North American pollinator that is in decline across much of its range. Proposed to be listed as Special Concern.
Red-necked Phalarope – a small shorebird that appears to be in decline. Proposed to be listed Special Concern.
Caribou (Newfoundland Population) – experiencing habitat loss and excessive mortality rates. Proposed to be listed Special Concern.
Nature NL has already provided comment on the first two species in advance of a May 4 deadline. The Red-necked Phalarope and Newfoundland Caribou are part of an extended consultation process with a deadline of October 4. Members and others are encouraged to inform themselves about these species and the SARA listing process (registrelep-sararegistry.gc.ca/document/default_e.cfm?documentID=2749) , and make comments directly to the SARA Registry or as part of a Nature NL submission by contacting us at: [email protected] .
John Jacobs
Nature NL – Species at Risk