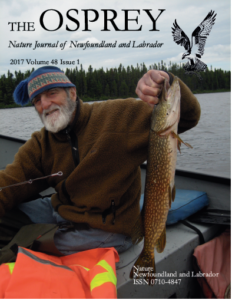 Winter to Fall 2017, Volume 48, Issue 1
The Osprey is a source of information on various aspects of the province's natural history such as birds, plants, insects, mammals, general ecology and philosophical nature musings. All members of Nature Newfoundland and Labrador can access The Osprey. Access the latest issues here.
Features
Dear John
By Bill Montevecchi
A letter to our dear friend John from Bill for family and everyone.
R. John Gibson Inspiring Nature Newfoundland and Labrador
By Rita Anderson
A snap shot of John Gibson's contributions to Nature Newfoundland and Labrador and the Natural History Society.
By Allan Stein
Trip summary for the annual Lady Slipper Orchid walk.
R. John Gibson and Environmental Assessment
By John D. Jacobs
John Gibson was a tireless environmental critic in matters regarding fish and fish habitat.
A Tribute to My Friend, John Gibson
By Shannie Duff
A tribute to John Gibson and his work with urban waterways.
Snowshoeing in a Winter Wonderland
By Allan Stein and Michael Collins
Trip report for our regular winter snowshoeing outing.
1986 Tuck-Walters Award Citation for John Gibson
By Natural History Society
John Gibson was awarded the Tuck-Walters Award in 1986 for his contributions to conservation and natural history.
Memories of John Gibson
By Various Authors
Short memories and stories about John Gibson from various friends and acquaintances.
By Rita E. Anderson
Brendan Kelly is the winner of the 2017 Wild Things Scholarship.
By R. John Gibson and Richard L. Haedrich
A fishing trip to Minipi Lake by two "greats" in fish biology.
By Julie Sircom
Bee imports threaten our native bees.
Whale Festival Report
By Anne Storey
Event report for the Annual Whale Festival at Cape Spear.
By Bill Montevecchi
Storm Petrel populations may be declining due to offshore developments.
Departments