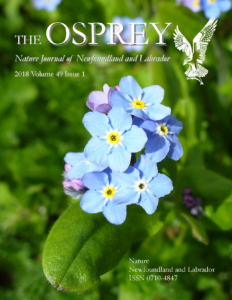 Winter to Spring 2018, Volume 49, Issue 1
The Osprey is a source of information on various aspects of the province's natural history such as birds, plants, insects, mammals, general ecology and philosophical nature musings. Some articles are available below, but Nature NL members can access the complete The Osprey here.
Features
By John D. Jacobs
Can the George River caribou survive with continued hunting, threats to habitat, and food shortages?
By Megan Boucher
A trip report on our annual Winter Gull Workshop at Quidi Vidi Lake.
By Andrus Voitk
An up close look at four species of forget-me-nots on the island.
By Justin So
Interview with local nature artist Brandy Barry.
The Humber Natural History Society (HNHS) in 2017
By Lois Bateman, HNHS Executive Member and Program Committee Co-Chair
Activities and goings-on of the Humber Natural History Society.
Sustainability of Introduced American Toad Populations in Western Newfoundland
By Dion Kelly, Christine Campbell, Robert Scott, Ian Warkentin
An updated distribution and feeding habits of American toads in Western Newfoundland.
Connecting Nature and New Canadians
By Elizabeth Andres
Summary on the successes and lessons learned from our Nature NL's project connecting new immigrants and nature.
Departments
Society Matters
Researcher Spotlight Series