We're excited to be celebrating World Whale Day on February 20th!
Newfoundland and Labrador is a great place to experience whales and other marine mammals, especially during the summertime when species such as humpbacks return to the province to feed on krill and capelin.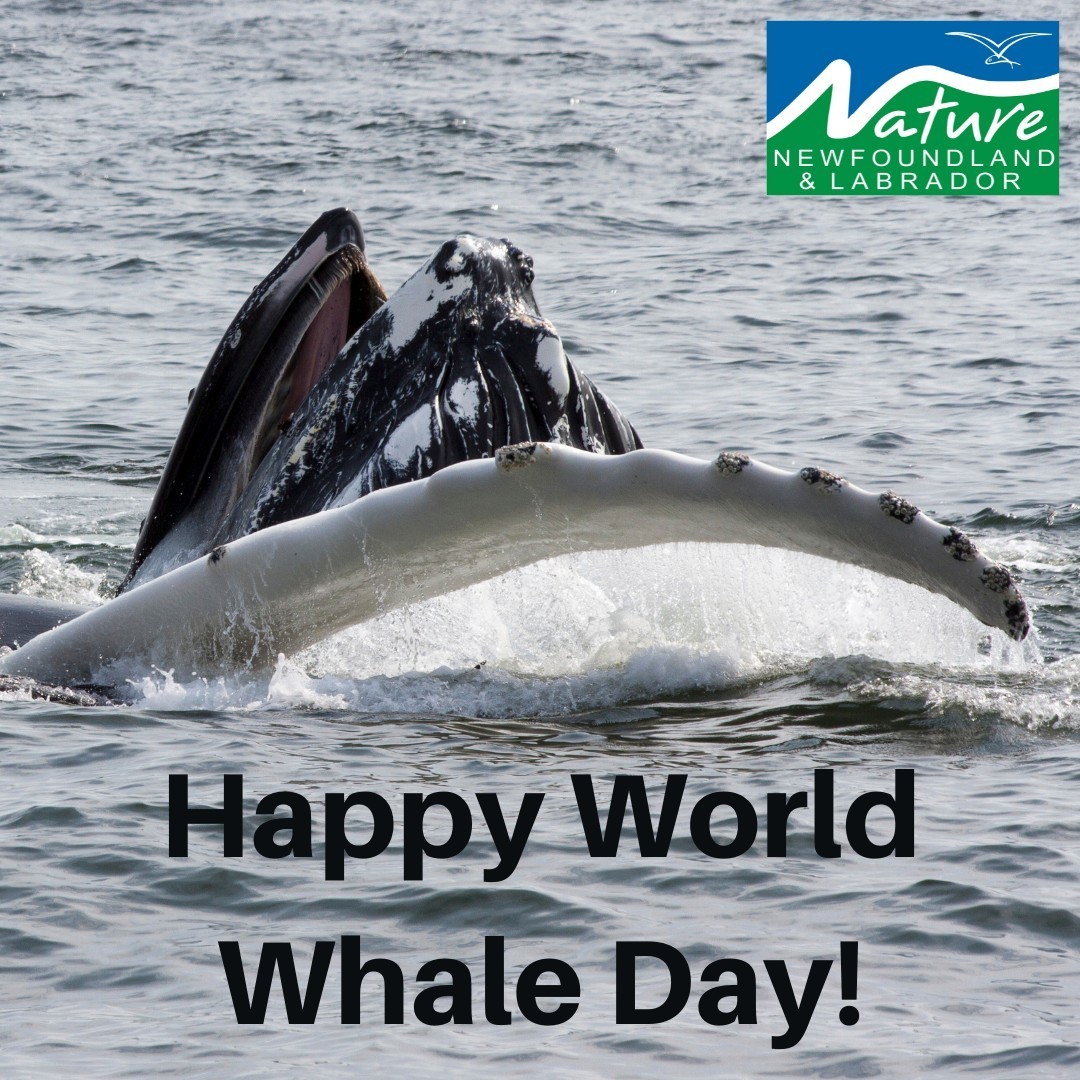 Watching these majestic animals feed is truly fascinating. Species like humpbacks have several unique feeding techniques that help them "herd" their prey, including bubble-net feeding and lunge feeding, where the whale emerges abruptly through water with its mouth wide open capturing capelin and other prey while letting water seep out through its baleen. Newfoundland is a great place to observe humpbacks feeding in action. Next time the capelin are rolling, head down to the beach in Saint Vincent's-St. Stephen's-Peter's River.
There are several species of cetaceans (whales, dolphins, and porpoises) that regularly visit Newfoundland and Labrador. These include baleen whales (or mysticetes) such as humpbacks, minke, fin, blue, sei (all belonging to the Balaenopteridae family), bowhead, and North Atlantic right whales (belonging to the Balaenidae family) and toothed whales (or odontocetes) such as sperm whales (belonging to the Physeteridae family), belugas and narwhals (belonging to the Monodontidae family). Bowhead whales and narwhals can occasionally be seen in Labrador.
Fun whale facts:
Did you know that one adult humpback whale can eat about 3,000 lbs (or 1,360 kgs) of food a day? And that sperm whales are the largest predator feeding in the waters of Newfoundland? Or that killer whales are not actually whales, as they belong to the same family as bottlenose and common dolphins (the Deplhinidae family)? Also, belugas and narwhals can become really good buddies – a pod of belugas "adopted" a narwhal in St. Lawrence River a few years back!
Occasionally, North Atlantic right whales find their way to the waters around our province. This year for World Whale Day, you have the unique opportunity to dive in with North Atlantic right whales in the special screening of Last of the Right Whales.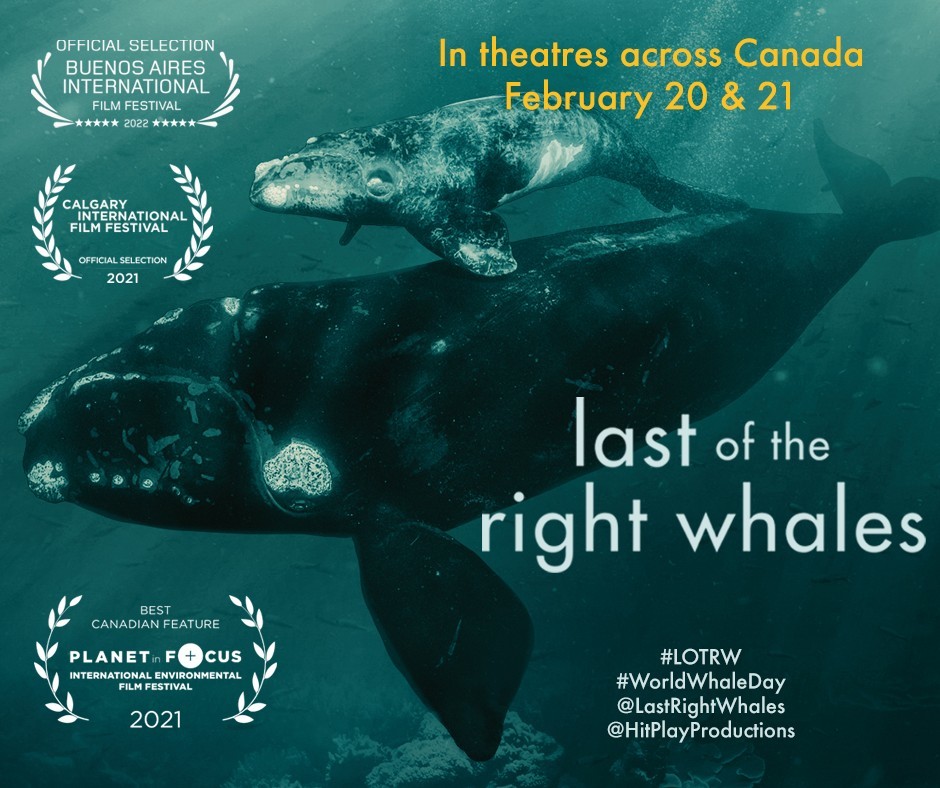 About the documentary:
From the only known calving grounds to the shifting feeding grounds, Last of the Right Whales follows the North Atlantic right whale migration and the people committed to saving a species still struggling to recover from centuries of hunting. Now climate change is forcing right whales further north in search of food, putting them on a collision course with deadly ships and fishing gear.
With unprecedented access to film the whale migration, Last of the Right Whales brings a message of hope about the most at risk great whale on the planet.
Featuring Charles 'Stormy' Mayo, Moira Brown, Kim Davies, Martin Noel, Nick Hawkins, Barbara Zoodsma.
Produced by HitPlay Productions with the participation of Telefilm Canada, in association with CBC and SWR/ARTE and with the participation of Ontario Creates, Rogers Documentary Fund, Canada Media Fund, the Canadian Film or Video Production Tax Credit and the Ontario Film and Television Tax Credit.
Distributed by Indiecan Entertainment (Canada) and Off the Fence (Worldwide).
Screening dates can be found here: