We think early morning birding adventures and a cup of hot fresh coffee go hand in hand! This is why Nature NL is excited to announce our partnership with Cafe Avia, purveyors of Bird Friendly coffee from Canadian coffee roasters, Totem Roasters. The coffee is certified organic, Fairtrade, and Bird Friendly®. For each bag you purchase you not only support migratory birds (including some that breed in Newfoundland and Labrador and winter in coffee-growing regions), but also Nature NL's programming in Newfoundland and Labrador. Just make sure to purchase the coffee that's co-branded with Nature NL's logo.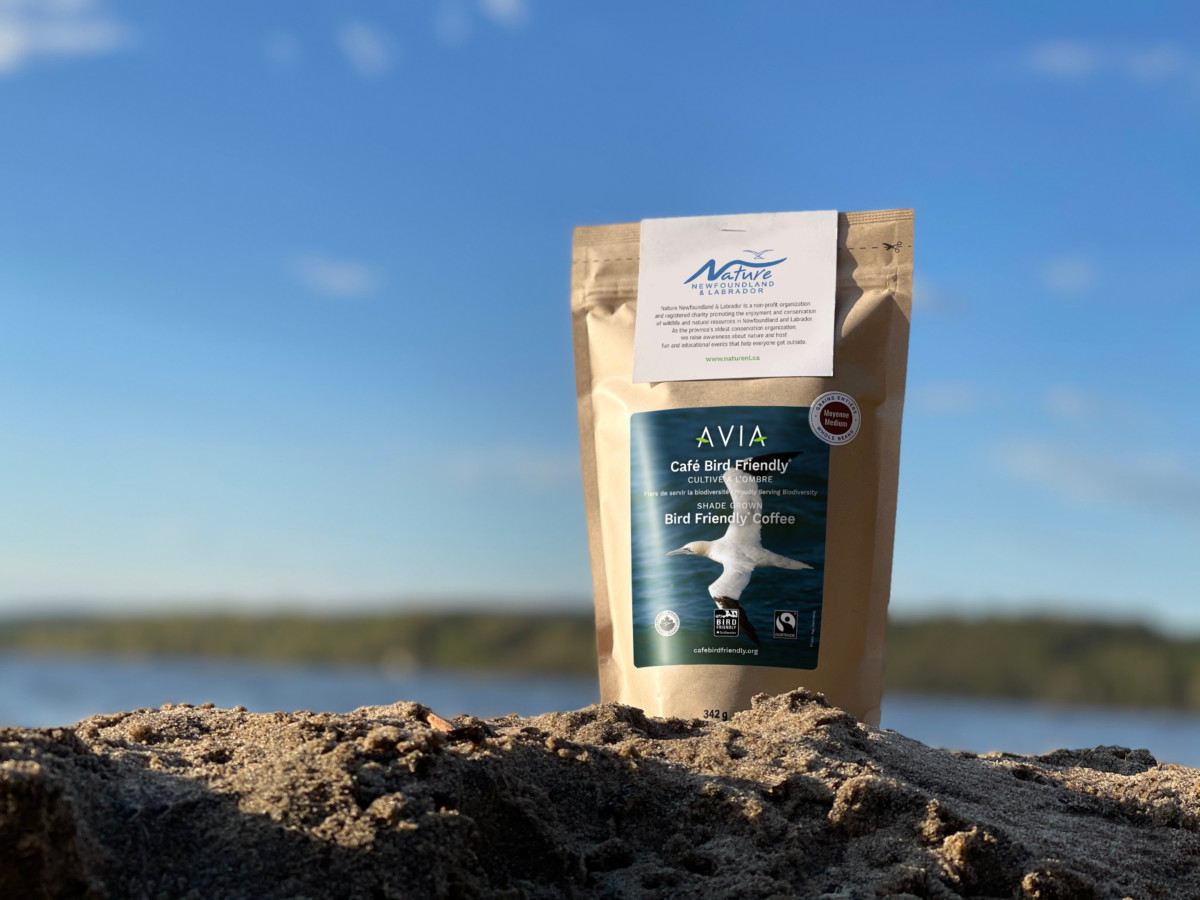 How to Purchase:
https://www.cafebirdfriendly.org/buy/
Go to the link above for Cafe Avia's online store and make sure to select the coffee or gift set for "In Support of Nature Newfoundland and Labrador." This would make for a lovely gift for the bird and/or coffee lover in your life!
What is certified Bird Friendly coffee?
In order to grow coffee in the sun, many coffee farms clear cut tropical forests resulting in deforestation which destroys habitat for many flora and fauna, including migratory birds that winter in these areas. This is a big problem as habitat loss is the leading cause for biodiversity loss and can be detrimental to the survival of entire ecosystems.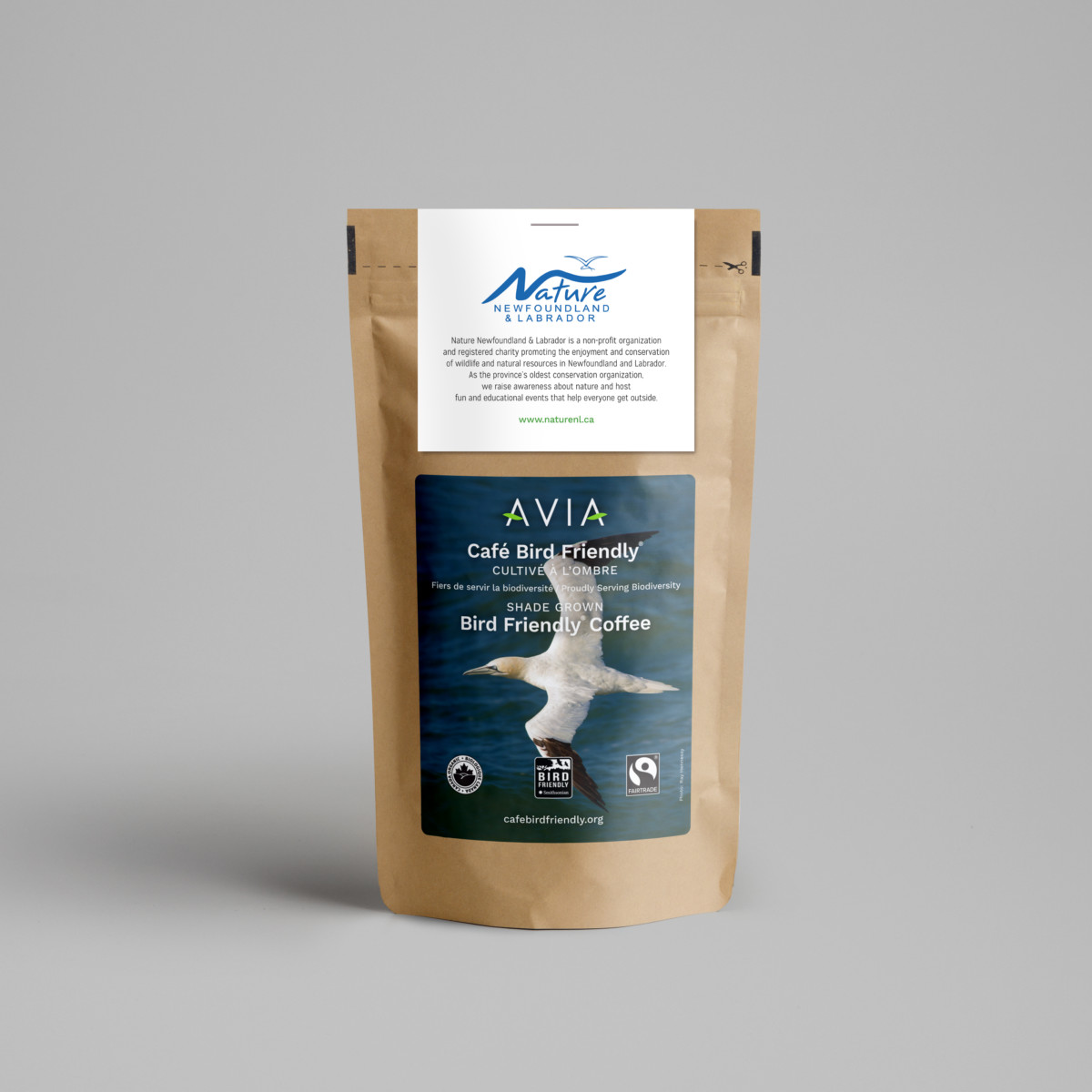 Scientists at the Smithsonian Migratory Bird Center created the Bird Friendly coffee certification to combat biodiversity and habitat loss resulting from coffee production. First introduced in the 1990s, this certification ensures that coffee farmers follow strict growing standards and are paid premiums for being certified. Some of these standards include ensuring that there is the proper mix of foliage coverage, tree height and diversity. This makes Bird Friendly coffee shade grown to higher standards than other shade grown coffees, meaning that the coffee is produced on farms with a canopy cover that provides important habitat for migratory and resident birds – species that are often threatened by global deforestation. This coffee is also certified organic and Fairtrade, meaning it is grown in a way that reduces its overall environmental impact and supports farmers and their communities.
Currently, there are Bird Friendly farms in 11 countries where coffee is grown. Bird Friendly coffee is roasted in Canada by Totem Roasters and sold through partnerships with non-profit organizations like ourselves that love coffee and birds!
Here are just some of the birds that can be found in Newfoundland and Labrador and winter in coffee growing regions that this Bird Friendly coffee could be benefiting:
Magnolia Warbler (Dendroica magnolia)
Red-eyed Vireo (Vireo olivaceaus)
Olive-sided Flycatcher (Contopus cooperi)
Grey-cheeked Thrush (Catharus minimus)
… and more!
Interested in learning more?
Check out the Smithsonian Migratory Bird Center's research resources:
About Bird Friendly Coffee:
https://nationalzoo.si.edu/migratory-birds/about-bird-friendly-coffee
https://nationalzoo.si.edu/migratory-birds/bird-friendly
About Agroforestry:
https://nationalzoo.si.edu/migratory-birds/agroforestry
Check out Cafe Avia's Homepage for more information on the coffee:
https://www.cafebirdfriendly.org/
Where to purchase:
https://www.cafebirdfriendly.org/buy/
Make sure to select the coffee or gift set for "In Support of Nature Newfoundland and Labrador."