By Justin So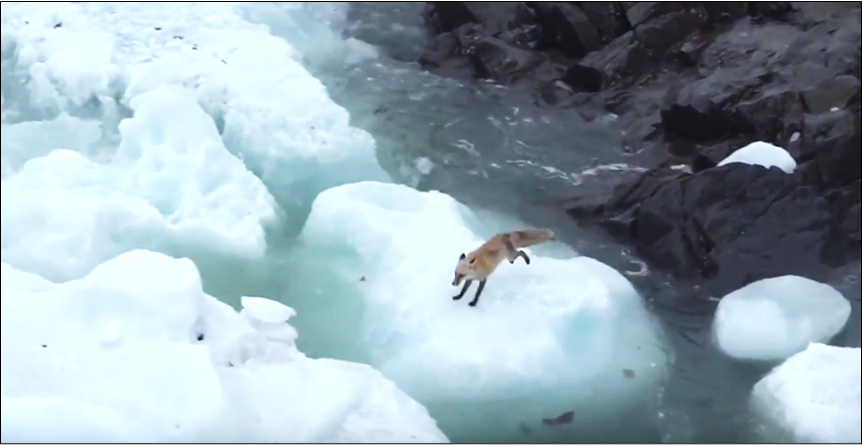 Over the last few weeks there have been more than a few interesting nature sightings around our province. Check out below some fascinating wildlife stories in the news and online.
• Elliston, NL is one of the best places to view our provincial bird, the Atlantic puffin (Fratercula arctica). A fox was filmed by Rodolphe Devillers trying to get a meal of puffin. The fox bounds across the sea ice and cliffs to find a way up, but is ultimately not successful at getting at the puffins.
• In late May, Gerard Gale in Black Duck Siding in western Newfoundland, captured video of a white piebald moose (Alces alces) as close as three feet away. These moose are predominantly white in colour with spots of pigment and are protected from hunting. Gale said it was a "Once in a lifetime for [him]".
• On May 22, a dead humpback whale (Megaptera novaeangliae) washed ashore in Outer Cove, NL. While initially a fascinating site, there was a lot of debate of how to remove the rotting carcass. A Fisheries and Oceans (DFO) lead initiative saw the removal of the carcass to a local disposal site. However, much of the whale fat that has floated off will likely persist in the water for a while.
• A dead polar bear (Ursus maritimus) washed up in Bristol's Hope, NL. Ann Peddle, who discovered the bear, noted it was an uncommon sighting for the area. The carcass was eventually removed by the provincial Wildlife Division.
• A man in Harbour Breton, NL has been guarding his home from ravens (Corvus corax). The birds can be seen banging against the window panes and pulling apart the rubber seal. Bird expert Bill Montevecchi, indicates that ravens are very intelligent and but may see the reflection in the window as an intruder on their territory.
• A lawn in Kippens, NL has been overrun with an infestation of crane fly (Tipula paludosa) larvae. Homeowner Roland Peddle looked out his window one morning after a large rainfall and saw thousands of grub-like insects crawling all over the land surrounding his home. Entomologist Barry Hicks indicated on social media that many insect populations are episodic and these insects may have escaped their natural regulator factors. He suggested that eventually the populations will crash as they would starve themselves or a build up of parasitoids and pathogens would build up and cause a crash.
• A couple was driving toward Rocky Harbour in Newfoundland's Gros Morne National Park and had a close encounter with a black bear (Ursus americanus) cub. The couple took pictures of the bear from inside their vehicle. Parks Canada advises against stopping to see bears on the side of the road.
• The long May 24 weekend brought a lot of rare birds to the island. At Quidi Vidi in St. John's, NL, a vagrant European Common Swift (Apus apus) caused a stir in the birding community. As Bruce McTavish noted; "The long, narrow wings and sharply notched tail [of the European Common Swift] are different than any other Newfoundland bird. This extremely rare bird at Quidi Vidi Lake kept birders very warm all weekend."